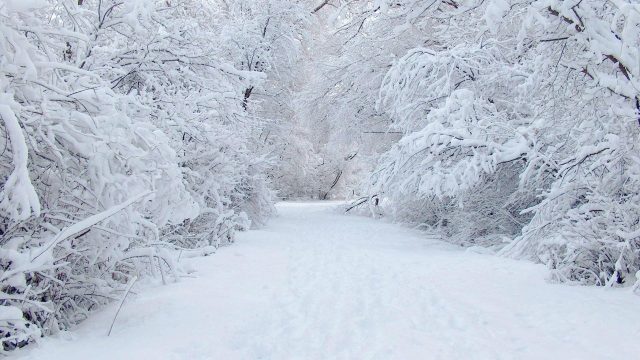 Written By: Nick Dunn (4:50 PM 12/14/2019)
OHIO — Good Evening! You have heard about our next round of wintry weather heading to the Scioto Valley! Here is some of the latest information I have to pass along this evening:
As it currently stands, this will be a 3-part system with two waves of precipitation impacting the region. The forecast is complex with many scenarios and models are not having the best of luck giving us a good handle on what will happen. For the Scito Valley, the current timing for snow to arrive is after sunset on Sunday. Temperatures will begin to rise after midnight, so some icy mix is expected north of the Ohio River primarily. This means a slushy commute to work or school is possible, depending on the surface temperatures early Monday. The timing will be key.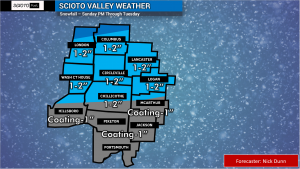 Snow and ice accumulations will not be major in our area, but the timing could make for some treacherous travel after midnight through rush hour on Monday. Snowfall of 1-2″ (locally more north of I-70), with ice accretion of 0.10″ or less will make for slick roads until we can change to rain. There will be a break in the precipitation for some of the area, which may also help to melt ice off the roads.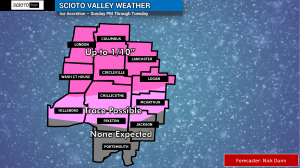 The second wave will likely be plain rain, and there could be plenty of it. In fact, I am concerned about some minor flooding and rises along creeks and streams across the area. This part of the forecast will be dependent on how much rain can set up in bands and "train", or move across the same areas repeatedly. 1-3″ of total precipitation is possible, between the snow and rain. We will watch this closely. There could be some light snow on the back side as the system departs.
CONFIDENCE: 50% – Again, this is a tricky forecast. This will not be a major storm at all, but the timing looks to be most impactful as morning and evening commutes Monday will be impacted in some form. We are constantly watching the new model data each time it comes in! Bear with us as we work through the forecast!