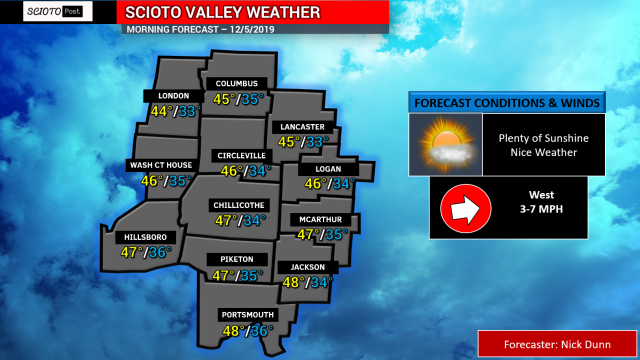 OHIO — Good Morning, Scioto Valley! We are almost to the end of another week. We saw some light snow over the past couple nights, but nothing too major. For today's forecast, we expect sunshine to be plentiful across the area with a few clouds, especially across areas to the north. High temperatures will be slightly above normal in the middle to upper 40's. For early December, this is a pretty nice day overall! If you have holiday decorations to do, I would get them up today as winds will be much lighter than what we saw Wednesday.
LOOKING AHEAD: Clouds will begin to increase tonight and a few showers will be possible south of I-70 on Friday Afternoon. Rain will not be widespread, so do not expect good coverage of rain or much in the way of measurable precipitation. The bigger pattern we are watching is towards the middle parts of next week as a storm system will bring rain Monday into Tuesday before ending as a few snow showers. Once that departs, some very cold air will briefly filter in. Highs will likely be in the middle to upper 20's for Wednesday/Thursday next week (12/11-12/12).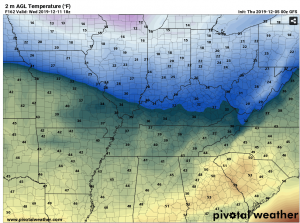 Stay tuned for more weather updates over the next few days!