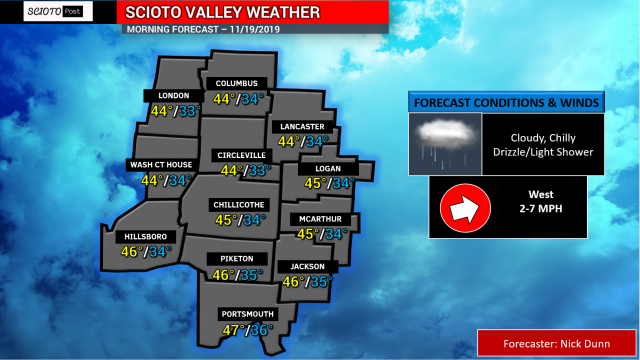 OHIO — Not much to describe today's forecast, however you will perhaps think about taking a coat with you. Chilly temperatures in the middle to upper 40's combined with cloudy skies and a few sprinkles/showers will make it feel kind of "blah" today. We likely will see limited or no sunshine once again today. If sunshine pokes through, you could add 1-2 degrees to these temperatures, but don't bet on it.
Rainfall amounts through tonight will remain at or under 0.10″ and not cause any major issues. We will see a few sprinkles this morning, followed y perhaps a bit more widespread light rain later today into tonight. Lows tonight should remain above freezing with plenty of clouds through most of the night. More widespread rainfall comes our way later this week into the weekend. Total amounts of precipitation should be on either side of 0.50″ by the end of the weekend.
Stay tuned for more updates!