OHIO — Yes, it is upon us. Snow! We have been waiting for the first real snowfall of the season. Rain will fall for a good portion of the day across the entire region, but as cold air filters in a change over to snow will take place. The snow will end after Midnight on Tuesday, but slick spots and colder conditions are likely for your morning commute to work or school!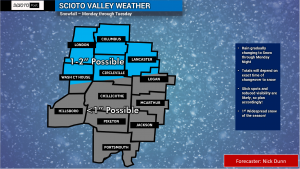 HOW MUCH: We will have to see how the eventual change from rain to snow goes, and the timing of that will dictate final snowfall totals. However, those of you near and north of US-22 will see 1-2″ in general, with less than 1″ south of US-22. We think that the warm air to start the day will cut into totals across the south. However, if colder air arrives quicker, expect those numbers to go up.
IMPACT: Wet roads could become icy, so Tuesday Morning may feature some travel delays or school delays. Be sure to check back for more updates as this forecast continues to evolve and may shift!