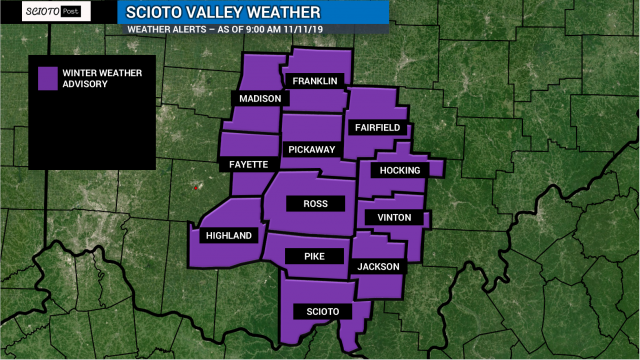 OHIO — Good Morning, Scioto Valley! Are you ready? Everyone is under a WINTER WEATHER ADVISORY for this afternoon into the overnight hours. Rain will change to snow later today into tonight, and we will see some accumulations across the region. We do think the highest totals will likely be near or north of US-22/US-50 at this time. However, slick road conditions are certainly possible given the change from rain to snow and falling road temperatures.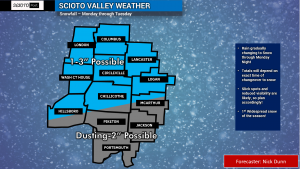 This will be our first widespread accumulating snow of the season! Those of you along a Hillsboro-Chillicothe-McArthur line and points north will see 1-3″ of snow. Those of you to the south, confidence remains a bit sketchy, but anywhere form a Coasting to 2″ is expected! You will wake up to snow on the ground on Tuesday Morning. While crews will have ample chances to stay on top of it, allow extra drive time Tuesday Morning!
Stay with Scioto Post for the latest information! You can also check out our friends at Ohio News & Weather for more weather details!