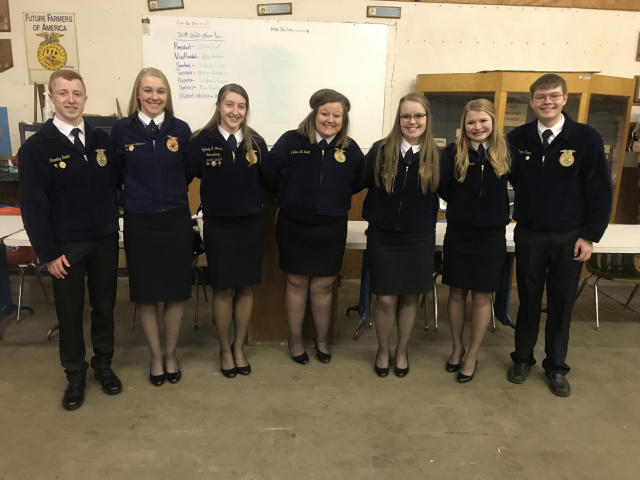 AMANDA, OHIO —By: Stephanie Bowers
A-C FFA Reporter
Email: [email protected]
On February 18, the Amanda-Clearcreek FFA Chapter elected a new
leadership team to serve as the 2019-2020 officer team. The more than 150 member chapter
considered many members for the seven chapter officer positions.
Jullian Scott, junior, was elected to serve the chapter as President, while Allie Poston, junior, will
serve as the Vice-President. Sydney Sharp, junior, will serve as the chapter's Secretary, with
Morgan Anderson, sophomore, taking over responsibilities as Treasurer. The new chapter
Reporter will be Stephanie Bowers, sophomore, with Timothy Smith, sophomore, and Aaron
Sharp, junior, selected to serve as Sentinel and Student Advisor, respectively.
"During my tenure as president, I would like to ensure that the excellence which our advisors
and members (past and current) have worked so diligently to create is preserved," said Scott. "I
would like to see people maximize their potential and work outside of their comfort zone."
Throughout the year, the officer team will provide leadership by running chapter meetings and
facilitating the end-of-year banquet in May, as well as the responsibilities of each elected office.
Candidates were evaluated by a panel of alumni and outgoing officers after completing an
application and supplemental materials for book offices. The candidates were then voted on by
the chapter members, beginning their new roles at the conclusion of the evening's elections.
"I have no doubt this team will leave behind a legacy after this year," said outgoing President,
Noah Smith.
For more news and information about Amanda-Clearcreek FFA, visit www.acffa.org.