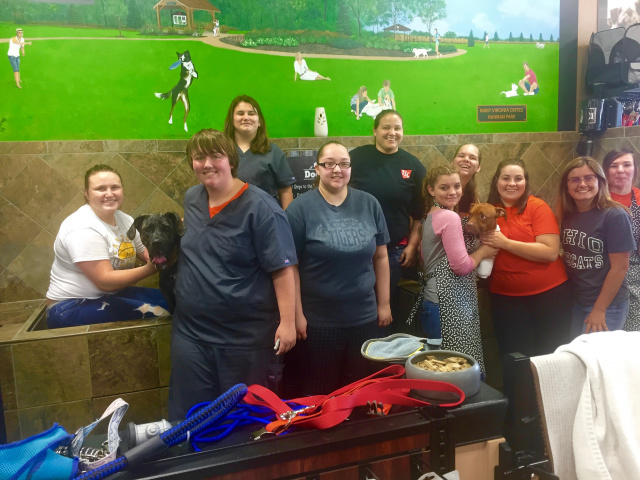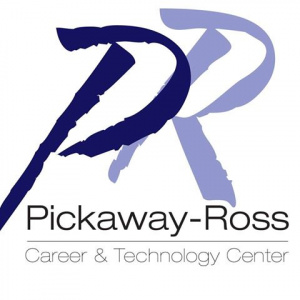 CIRCLEVILLE – Pet Valu opened its doors for Pickaway-Ross Technical School to sponsor a dog wash that collects money to benefit the Stoneridge FFA & Pickaway County Dog Shelter.  The event also gives veterinary students experience dealing with different breeds of dogs and dog owners. "Its good for the kids to get s hands-on experience, I love this program raising money for the FFA and Pickaway dog shelter," said Alyssa Hill, store manager.
- Advertisement -
"Pickaway-Ross has 28 junior and senior students in the veterinary science program. It is a magnet class that offers half a day at Pickaway-Ross and half at local schools.  This keeps students more involved in high school activities and sports at local schools, but gives them the education in a field of study that interests them,"  said Racheal Scior, teacher of the Veterinary Science Program.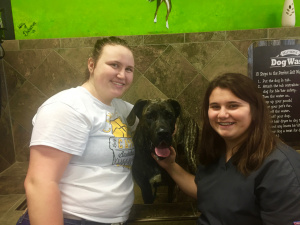 Forty-three Pickaway-Ross satellite teachers instruct more than 2,500 students in a variety of programs. Pickaway-Ross Career & Technology Center (PRCTC), a regional hub of secondary career and tech-prep education, serves juniors and seniors from 10 high schools from Pickaway and Ross counties in south-central Ohio.
Racheal Scior, a former satellite AG teacher from Westfall High School teaches the Veterinary Science Program. "I've always tried to treat students as young adults. I wanted this to be a stepping stone to a four-year institution," Rachel said.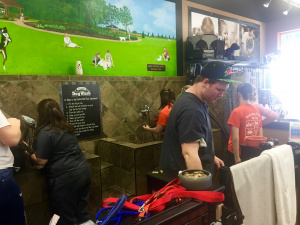 "It's a great experience to learn skills have animals to work with. I've been learing about diseases, the tools, the breeds, I went into program originally because i loved animals and wanted to work with them daily. Now the experience, the people you meet, and all the new things you can learn about is what drives me. I was very skittish the first year because the program offers FFA, and from past experiences I did not want to do the FFA program but now I love doing it. I Will pursue this career because of this program and experience. It teaches you the basics of what you need for a vet technician or veterinarian, and really prepares you for the stuff you will learn again in college. It is a real big help to get the knowledge and training of what it takes to become a doctor for animals," said Phillip Thornton, student.
Pet Valu is located at 160 Summit Ave, Circleville, OH 43113, number is 740-500-1398