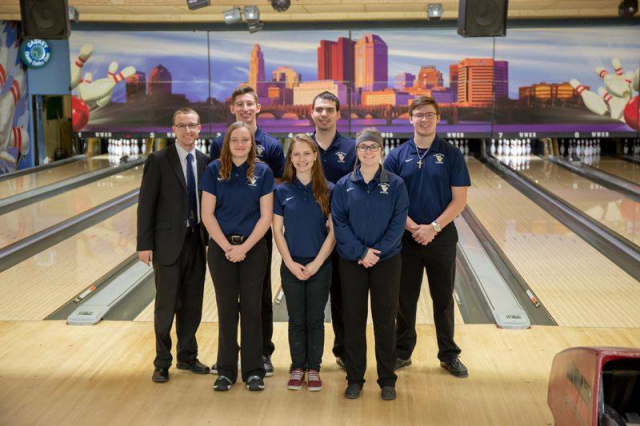 The Teays Valley Vikings played against the Big Walnut Eagles on February 19, 2019 for a non-league match. This was the season finale for the teams, as they will have the OHSAA Tournament on Friday & Saturday this weekend.
The Vikings boys defeated the Eagles 1897-1672. The Vikings were led by Russell Orris, who had a 383 series.
The Lady Vikings fell to Big Walnut 1870-1978. The Lady Vikings were led by Addy Held, who had a 414 series. The 1870 is the most that the Lady Vikings have ever scored in a match in school history.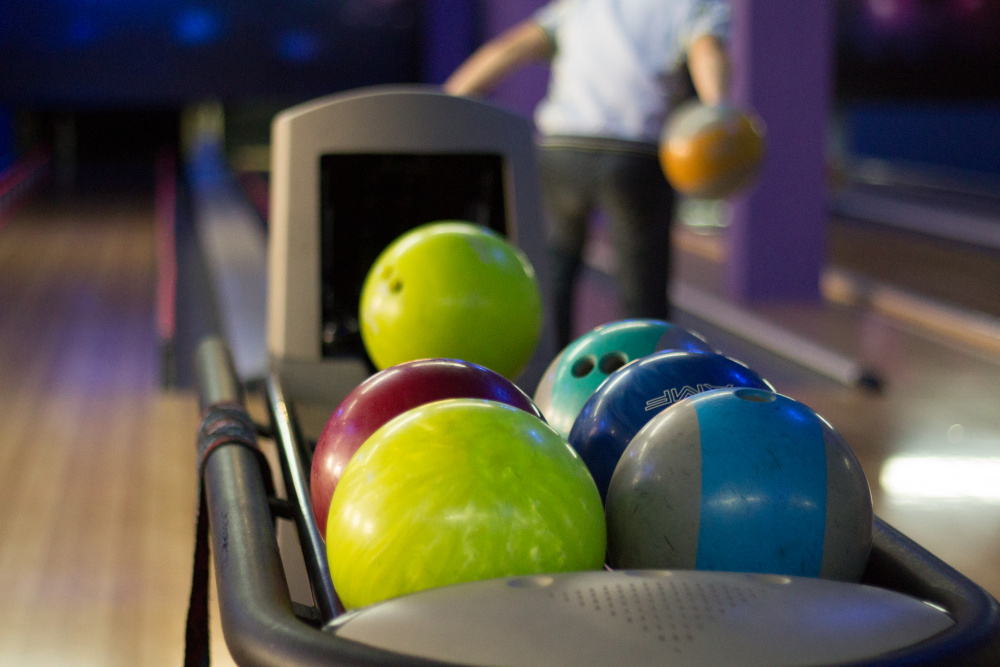 After the match, the Vikings honored the 2019 Senior Class and their families. The 2019 seniors are the only class in school history to win the MSL & COHSBC Divisional Championships in both boys & girls in the same season.
We have had a tremendous season this year. This year's group has been tremendous. It is great to send this senior class out with so much success. They've worked tremendously hard their entire careers, and we cannot say enough about the impact that they made. I want to thank not only Jacob, Anthony, Michael, Addy, Brooke, and Gabby, but their parents and families for all their support over these last four years.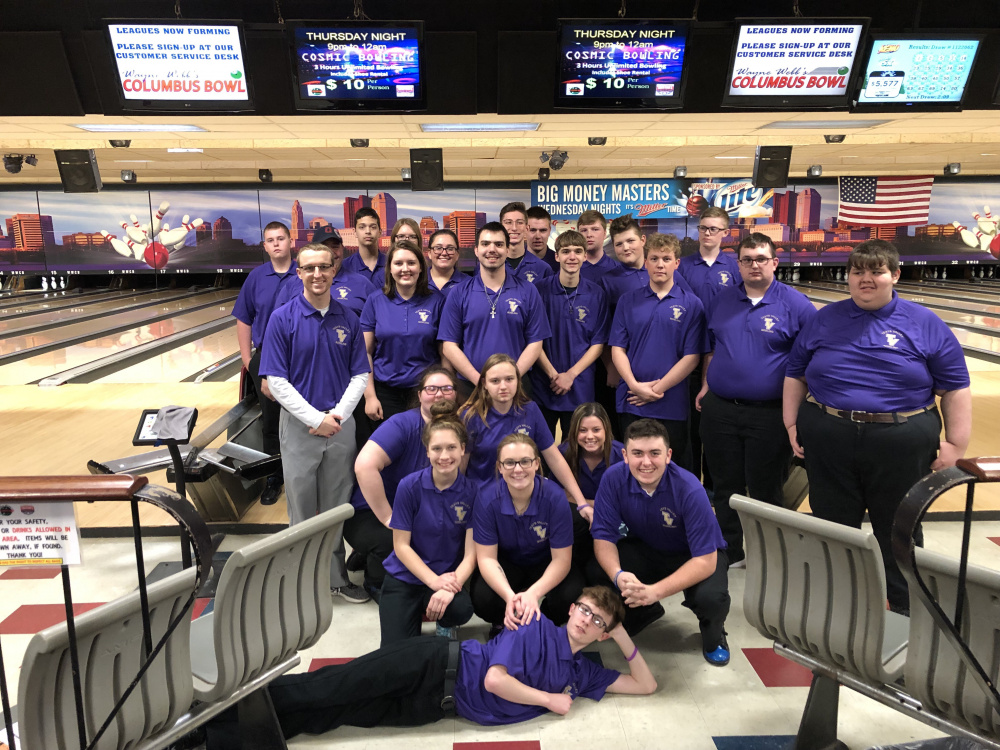 The entire 2019 team should be proud of their accomplishments so far. We will keep working to continue to improve. We also want to recognize Big Walnut. They are a tremendous program. They are well coached, and one of the most respected teams in Central Ohio.
VARSITY BOYS
Teays Valley – 1897
Big Walnut – 1672
Medalist – Russell Orris, Teays Valley (383 Series)
Teays Valley Stats
Russell Orris – 207, 176 (383)
Jacob Thompson – 163, 187 (350)
Michael Collins – 117, 209 (326)
Anthony Mirisola – 145, 157 (302)
Jacob Bryant – 120, 131 (251)
Series 1 – 752
Series 2 – 860
Baker Games – 129, 156 (285)
Big Walnut Stats
Bryan Mengel – 174, 90 (264)
Johnny LeMaster – 117, 161 (278)
Jacob Bowens – 174, 147 (321)
Erin Hoover – 165, 148 (313)
Brayden Buchs – 151 (151)
Andrew Hettinga – 109 (109)
Series 1 – 781
Series 2 – 655
Baker Games – 126, 110 (236)
VARSITY GIRLS
Teays Valley – 1870
Big Walnut – 1978
Medalist – Addyson Held, Teays Valley (414 Series)
Teays Valley Stats
Brooke Orris – 172, 168 (340)
Ashton Anderson – 105, 161 (266)
Addy Held – 205, 209 (414)
Gabby Testa – 149, 152 (301)
Esther McFarland – 132, 90 (222)
Series 1 – 763
Series 2 – 780
Baker Games – 173, 154 (327)
Big Walnut Stats
Kaitlyn Morrison – 200, 192 (392)
Ashleigh Westervelt – 223, 159 (382)
Caitlyn Lambert – 177, 148 (325)
Autumn Leidtke – 148, 122 (270)
Anna Tanner – 153 (153)
Ale Hernandez – 143 (143)
Series 1 – 901
Series 2 – 764
Baker Games – 169, 144 (313)
JV BOYS STATS
Teays Valley – 1409
Big Walnut – 1719
Medalist – Jacob Greathouse (389)
Teays Valley Stats
Isaac Martin – 170, 144 (314)
Hunter Blair – 131 (132)
Danny Crane – 120 (120)
Dylan Welsh – 99 (99)
Ryan Fletcher – 143, 160 (303)
Zach Francis – 136 (136)
Hayden Mohr – 71 (71)
Donovan Blakely – 44 (44)
Baker Games – 88, 102 (190)
Big Walnut Stats
Tyler Lewis – 148, 162 (310)
Riley Shumaker – 154, 135 (289)
Adam Willhelm – 133 (133)
Jacob Gillespie – 120, 126 (246)
Jacob Greathouse – 195, 194 (389)
Nick Bucci – 108 (108)
Baker Games – 147, 97 (244)
JV GIRLS
Medalist – Faith Myers, Big Walnut (246)
Teays Valley Stats
Kiara Minix – 88, 117 (205)
Hannah Keathley – 114, 97 (211)
Holly Baggett – 83, 81 (163)
Big Walnut Stats
Faith Myers – 126, 120 (246)
Teah Hoffon – 95 (95)
Abi Larkin – 119, 111 (230)
R. Belcraft – 71 (71)
Lauren Thtetgartner – 88, 99 (187)
Aubrey Koon – 96, 100 (196)
Cassandra Sanders – 147, 78 (225)
Grace Gillespie – 116 (116)
Sarah – (96)