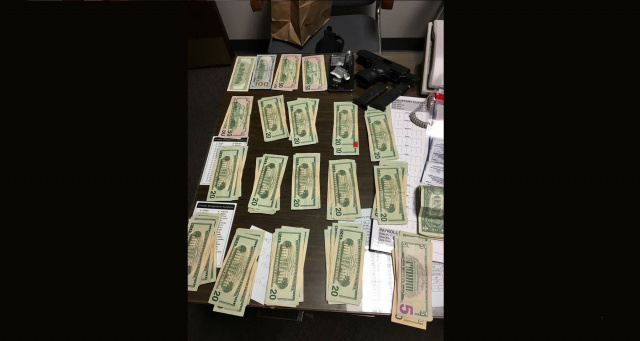 On Novenber 18th, 2017 at 0118 hours, Deputy Harger and his K9 partner Joris stopped a 2002 Honda Accord, on US 23 in South Bloomfield. Upon initial contact with the driver Deputy Harger observed criminal indicators from all the occupants in the vehicle. Deputies Eveland and Wallace arrived to assist Deputy Harger.
The driver identified and owner of the vehicle was identified as Donald Teets III. The other occupants were later identified as, Jacob Haywood of Orrville, Ohio, Charles Vance of McAtthur, Ohio and Fawn Harshberger of South Point Ohio. Mr. Haywood was found have 2 felony warrants for his arrest.
When Deputy Harger and Eveland ask Mr. Haywood to step out of the vehicle, Deputy Wallace immediately saw a firearm on the seat where Mr Haywood was sitting. At this point all the occupants were detained for their safety and the Deputies. As Deputy Eveland searched Mr. Haywood, he located 2 baggies of a crystal substance in his pocket, which was field tested as methamphetamine.
Upon search of the vehicle, more crystal like substance under the passenger's seat, where Charles Vance was sitting. Deputy Harger searched Mr. Vance. Deputy Harger located over $1900 in U.S. currency. Also located in the vehicle were several items of drug paraphernalia.
Jacob Haywood, Charles Vance and Fawn Harshberger were placed in the Pickaway County Jail. Jacob Haywood was charged with Possession of a Controlled Substance, Improper Handling of a Firearm in a Motor Vehicle, and Carrying a Concealed Weapon. Charles Vance is charged with Possession of Controlled substance. Fawn Harshberger is charged with Possession of Drug Abuse Instruments and Obstructing Official Business.