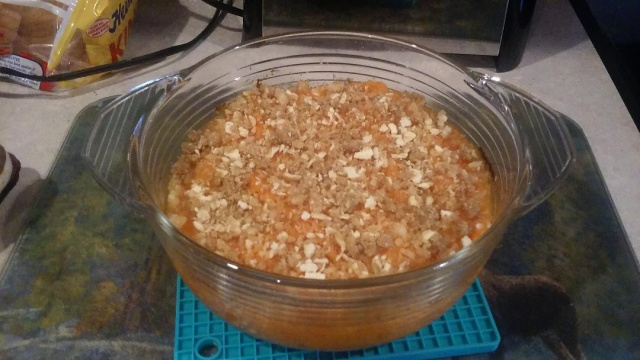 Throughout the week and further, we will be sharing family secret recipes for all to try. These are submitted quotes about the dishes and how these dishes came to be family traditions. Do you have a dish to share?  Feel free to contact us and share.
"I love sweet potatoes and enjoy making them in different ways. I've recently, in the last few months or so, have become sensitive to gluten. Sweet Potatoes are just one of many things that I can eat that are without gluten. When I found this recipe a few years ago I was unaware that one day I would be glad, in more ways than one. My Grandmother had given me recipe books as well as old magazines that had recipes in them. I cut out recipes from the magazines and the Tropical Sweet Potatoes were just one of many. Broccoli Casserole is another favorite that I have tried but I will save that recipe for another time. I have made Tropical Sweet Potatoes several times and they were a hit with sweet potato lovers. They really take on a whole new taste and twist with pineapple mixed in. Feel free to add or substitute ingredients. For example, sea salt instead of regular salt. I would use a little less if you do sea salt. You may want to add crushed pecans or walnuts to the top along with the other ingredients that will go there. Alright, enough gabbing. On to the recipe!"
Here is what you will need for Tropical Sweet Potatoes
4 Large sweet potatoes
1 can (8 oz) crushed pineapple, juice included (you may use fresh if desired, juice too)
6 Tablespoons butter or margarine, melted, divided
3/4 teaspoon salt
Pinch of pepper
1/2 cup crushed saltine crackers ( I use gluten-free)
2 Tablespoons brown sugar
Pinch of cloves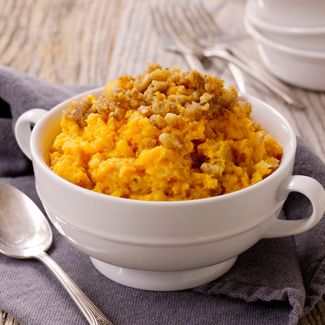 Directions
In a large saucepan, cover sweet potatoes(skin and all) with water; bring to boil.
Reduce heat; cover and simmer for 30 minutes or until tender. Drain and cool. (I put them in a strainer in the sink and run cold water on them). After they are cool enough; peel skin off and place sweet potatoes in a mixing bowl and mash. Add the pineapple, 2 Tablespoons of butter, salt and pepper; mix well. Take the mixture and put in a greased 2-qt baking dish. Combine crackers, brown sugar, gloves, and the remaining butter; sprinkle over potatoes.
Bake, uncovered at 375 for 30 minutes. Serving size is 8-10
This Thanksgiving enjoy something different and pat yourself on the back for a job well done! May we all be blessed this Thanksgiving Holiday and every Holiday after.
Story and recipe submitted by Jennifer Chambers