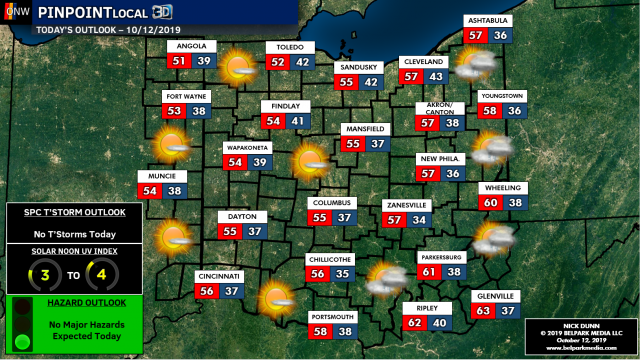 OHIO — As you are waking up this morning, it is much cooler than we have seen this season! Temperatures will only rise into the 50's today. Rain is exiting, and skies are clearing fairly quick behind the departure of the rain. You will want a sweatshirt and jeans as you leave home today with cooler temperatures.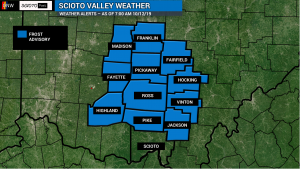 Tonight, we have a FROST ADVISORY for everyone except Scioto County. Temperatures will fall into the middle 30's. Combined with clear skies and light winds, frost formation is very likely tonight! Those in low-lying areas will see the heaviest frost. Steps you can take now to protect your plants:
Cover your plants with newspaper or a cloth. You can use clothes pins attached to the paper or cloth for a bit of weight due to the light winds.
Bring plants inside! Potted plants will survive a night inside the comfort of your home.

You may have to turn that furnace on for the first time tonight! Perhaps dig out that extra blanket for tonight to stay warmer. Sunday looks warmer and dry!