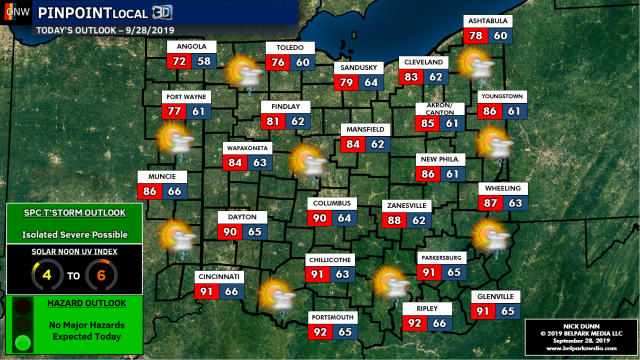 OHIO — Good Saturday Morning! We hope you are going to enjoy your weekend. Today is looking HOT and humid with highs in the upper 80's to lower 90's, so stay hydrated if you have outdoor plans.
In addition, keep an eye out for showers and thunderstorms this morning, and once again perhaps this afternoon with the heat of the day. We really need the rain, so I hop not many of you are complaining!
If your travels take you to eastern Ohio, you may run into a few stronger thunderstorms, otherwise just heavy downpours are the main threats. Lows tonight will cool off, but if you are looking for Fall weather this weekend you will want to head closer to Lake Erie or Michigan.