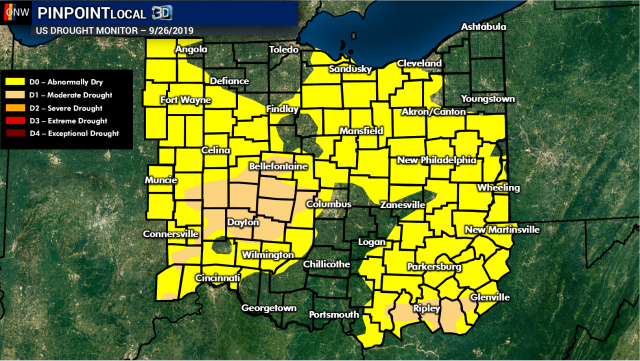 Columbus, OH — We continue to see a lack of rainfall across a vast majority of Ohio. The last seven days did not bring a ton of rainfall to areas that need it most, and the next seven days do not look overly promising. Here is the discussion and some statistical breakdowns from Nick Dunn of Ohio News & Weather:
***DROUGHT CONTINUES ACROSS AREA***
Discussion: Dunn
Our recent run of dry weather continues and it is making an impact in a negative way in terms of our ongoing drought conditions. We do not see any real significant rainfall in the forecast over the next 7 days for our area.
Over 75% of our coverage area is at least in the Abnormally Dry category (Yellow), meaning we have been drier than normal lately. However, the more concerning area is that we have around 10% of our area in a Moderate Drought category (Tan). This area (specifically the Miami Valley) is running more than 4″ BELOW Normal on rainfall since August 1st, which is why that area is in the Moderate Drought.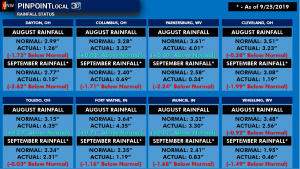 Overall, the area that is in the Abnormally dry category grew significantly across our area compared to last week. Looking at just Ohio, 65% of the state is now Abnormally Dry compared to 18% last week.
Looking ahead, we do not see any true significant rainfall. The best chances for drought-busting rains will be across Northern Indiana and Northwest Ohio, over more than a 1/2″ is possible in some areas.