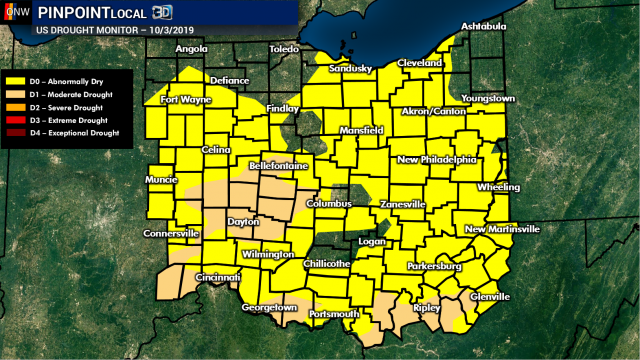 OHIO — Well, Fall has finally arrived! Temperatures are cooling off as a cold front sweeps across the area. However, we did not see much in the way of significant rainfall this week. This has led to drought conditions worsening for Ohio. Here is the full discussion from Nick Dunn:
This is becoming a weekly topic across our area. We did not see much widespread rainfall since last week, therefore we have seen zero improvement in our drought conditions. We do see some potential improvements for some soon. As it stand snow, this is projected to be a Short-Term issue (meaning less than 6 Months)
We currently have Moderate Drought conditions across more of the Miami Valley, Southern Ohio, and West Virginia. This covers somewhere between 15 and 20 percent of our coverage area. These areas are still seeing rainfall deficits of 2-4″ or so since 8/1/2019.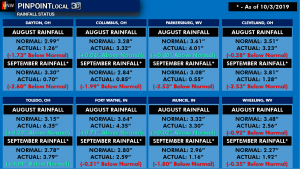 Also, we have over 85% of our coverage area in Abnormally Dry conditions right now. These areas are more than likely seeing some deficits, but it is not as significant right now.
We could really use some rain this weekend. Thankfully, we have some rain coming. The heaviest rains will fall over areas east of I-71. The latest 5-Day totals show more than 0.75″ possible across areas East of I-71, which would go a long way to reversing dry conditions.
It is recommended you do not burn anything as our dry stretch continues! Hopefully, more significant rains will come sooner rather than later.