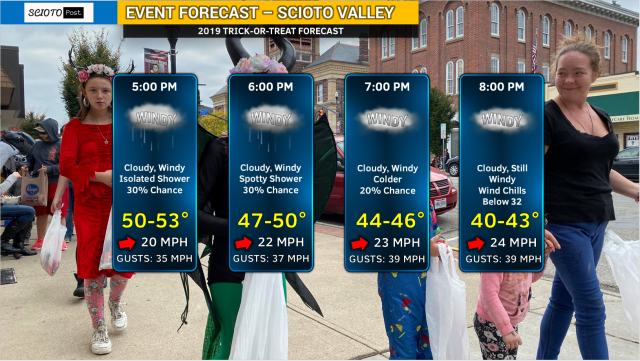 OHIO — We are used to seeing cooler weather (and even some rain) this time of year. However, this Halloween will be wet, windy, chilly, and just down right miserable for outdoor activities. As we take a look at the hour-by-hour, you can see winds pick up through the evening time (5-8pm), but rain chances will lessen with time. The BEST chance of rain will exist (30%) before 7:00PM based on current models, but a stray shower is possible thereafter.
Taking children out for Trick-Or-Treat? Some tips for you:
1. If costumes have hats, consider tying them or not wearing them.
2. It will be muddy, so try old shoes.
3. It will be windy, so keep small children close to you and keep their candy bags from blowing away!