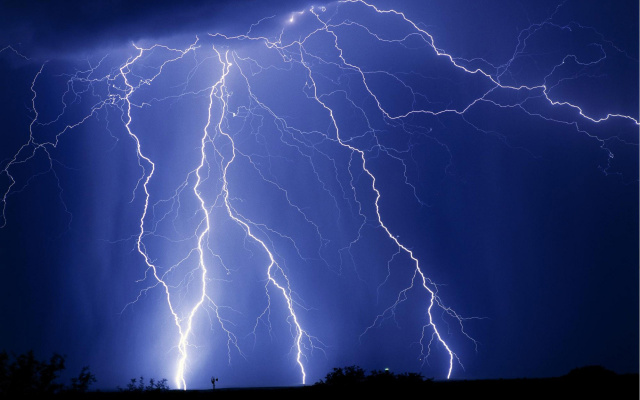 OHIO – The heat and humidity have returned to the area, and that will build on Wednesday as highs get close to 90 degrees. An approaching cold front will be bringing some relief after Thursday.
The Storm Prediction Center has placed basically the entire local area under a MARGINAL RISK (Level 1 of 5) for severe weather on Thursday. The main concern would be for an isolated severe thunderstorm or two capable of producing damaging winds or hail.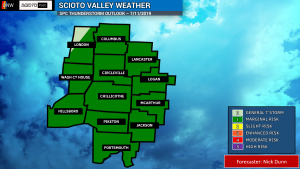 Ever wonder what each risk level means? The Storm Prediction Center has 5 (five) risk levels, each of them carrying an idea of what to expect. For example, a Marginal Risk means that isolated severe weather is possible, while a High Risk means an outbreak of tornadoes and life-threatening conditions are expected.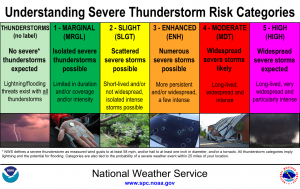 TIMING & WHAT TO EXPECT: As of this evening, the current expectation is that not everyone will see severe weather. We do expect a chance of thunderstorms at any point in the day. It appears the best chance of severe weather will be during the late morning through mid-evening hours (11am to 8pm). Thunderstorm coverage is expected to be scattered, which means not everyone will get wet. Strong winds and heavy downpours are likely. The strongest cells could briefly turn severe, but an outbreak is very unlikely.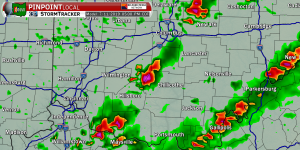 Stay tuned for further updates here on Scioto Post and over on Ohio News and Weather!