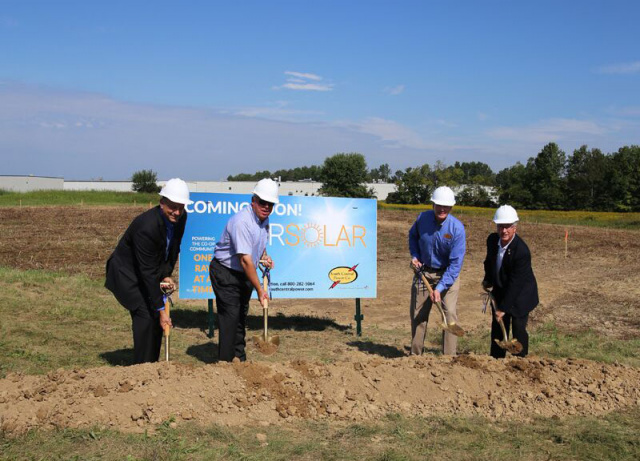 - Advertisement -
LANCASTER
South Central Power Company members will soon have access to affordable renewable energy through the OurSolar program. The electric cooperative broke ground for the 650 kW solar array on September 18.
The project will place 1,900 solar panels on four acres near the corner of Anchor Way and Mill Park Drive in Lancaster's Rock Mill Corporate Park. The installation of the system is expected to take place over the next two to three months. When completed, the array will produce enough energy to power 60 homes.
"Interest in renewable energy is growing," said Rick Lemonds, president and CEO of South Central Power. "But for many people, installing a renewable energy project on their own is just too expensive or too difficult. So as a cooperative, we're taking it on together."
OurSolar also reflects South Central Power's balanced approach to energy generation. "While most of the power supplied to South Central Power will continue to be produced by coal-fired generation, OurSolar gives the cooperative members the option to supplement that base-load power with locally produced renewable energy," said Ken Davis, chairman of the South Central Power board of trustees.
- Advertisement -
Lancaster Mayor David Smith said the project is another example of the strong economic development partnership between the city and the cooperative. "This is a great project, one that will help portray South Central Power, the Community Improvement Corporation, the city and the county as forward-thinking entities," said Smith.
South Central Power is building the OurSolar project in collaboration with Buckeye Power, Inc., the co-op's generation and transmission provider, and the Lancaster Area Community Improvement Corporation.
More information about OurSolar will be available at www.southcentralpower.com in the coming weeks.
South Central Power Company, headquartered in Lancaster, is Ohio's largest electric cooperative serving more than 117,000 locations in 24 counties.
Featured caption: South Central Power Company officials were joined by representatives of the Lancaster Area Community Improvement Corporation (CIC) and city of Lancaster to break ground for the cooperative's 650 kW solar array.  Pictured from left:
Steve Wells of the CIC, South Central Board Chair Ken Davis, South Central President & CEO Rick Lemonds and David Smith, Mayor of Lancaster.