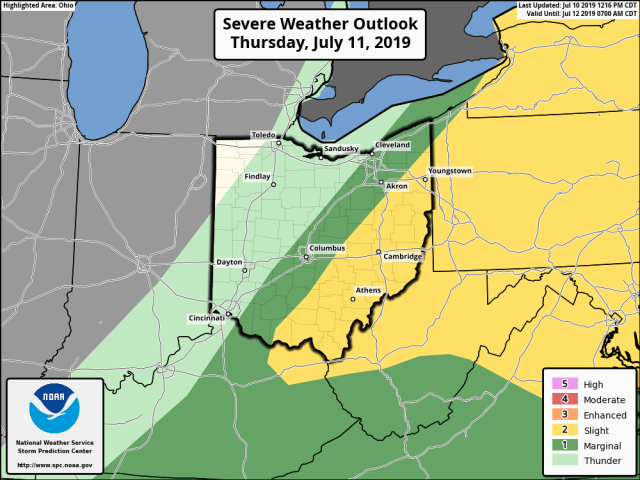 OHIO – Good Evening, Scioto Valley! It was another scorcher out there today. A couple of you saw a brief shower. The bigger story was the heat and humidity as many of you got into the 90's for a few hours today. If you are not a fan of the heat, you will not like what could come next week.
Looking ahead to Thursday (7/11), the Storm Prediction center has increased the risk of severe weather to a SLIGHT RISK (2 OF 5), meaning scattered severe thunderstorms are possible. Damaging winds and isolated hail are the main concerns at this time. As you see below on the map, the greatest risk of severe weather will be from Pike County to Lancaster and points East.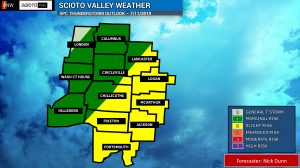 TIMING: The timing has remained roughly the same as we discussed yesterday. We expect the greatest threat to exist between 10am and 8pm across the local area. We do not expect an outbreak, but the chances everyone sees rain have increased. Rain and thunderstorms will be possible at almost any point tomorrow.
While some model data this evening would suggest severe weather may not occur in the area, you should still remain on guard and keep an eye on the weather. Also, we always stress to be ready for any possibility. Other models show single cell storms or a line of thunderstorms rolling through the area, so any scenario is possible and it will depend on which model is correct.
Stay tuned to us and our friends over on Ohio news & Weather for the latest details on this threat of severe weather for Thursday! We will be discussing the upcoming heat wave next week a bit later this week here on Scioto Post!