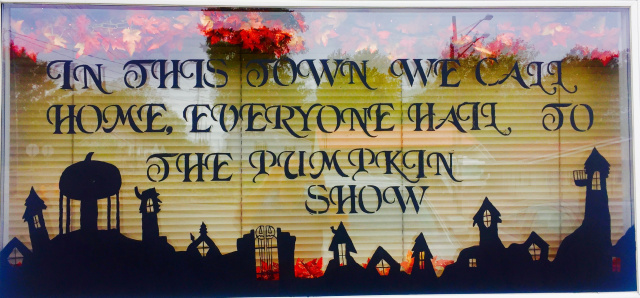 CIRCLEVILLE – It is no surprise that the Liggett family loves anything pumpkin show related.  Step into the Optometrist office any time of year. You will see pictures of giant pumpkins adorned on the walls. Dr. Liggett's proud history of growing giant pumpkins is commemorated. When Pumpkin Show comes around the office, staff tend to step it up an extra notch.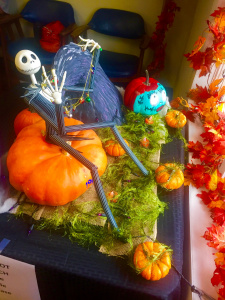 "It's a group effort," said Kelli Murray, Carrie Kelly, Shauna Redmond, Tina Wolfe and Teresa Norman. We all do are parts in the window. "I painted a pumpkin," said Murray.  "The artwork was done during the day. We completed the rest after closing hours. We are that dedicated. We have submitted our paperwork and are now waiting review."
- Advertisement -
Jack Skeleton and his dog Zero from The Nightmare Before Christmas are highlighted in this years window.  A song from the movie "This is Halloween" by Marilyn Manson is highlighted on the main window with a slight twist.  It reads: "In this town we call home, everyone hail to the pumpkin show." The scene is of the "Nightmare Before Christmas" village with the Pumpkin Tower for a touch of Circleville.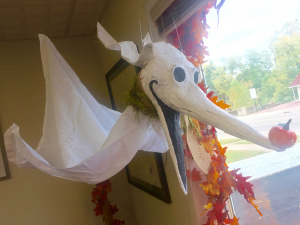 In the waiting room table, by a window, sits another display: A painted pumpkin of Jack Skeleton's girlfriend, Sally, and a paper and tape construction of Zero made by Redmond.  Shauna said, "She created Zero in a few days.  She loves doing art in her spare time."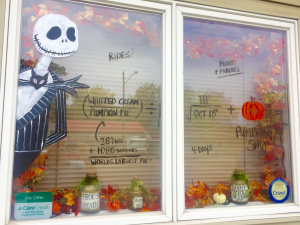 The group added Liggett's 2014, 1964 pound contest winning pumpkin to the display.  Liggett said, "These gals do a fantastic job on decorating. They have real pride in the Pumpkin Show."  The window art can be seen at 401 North Court Street in Circleville.