Good Thursday Morning, Scioto Valley! We will be quite warm and humid, although not as many of us will be in the 90's. A cold front is marching east towards the area today and will serve as the primary focal point for showers and thunderstorms. These thunderstorms will develop ahead of the front in our warm air mass.
We remain under a SLIGHT RISK (Level 2 of 5) for severe weather today near and east of a Sinking Springs to Circleville to Lancaster line. This area stands the best chance of damaging winds and hail with the strongest storms today. To the west of that line is a MARGINAL RISK (Level 1 of 5), where an isolated strong wind gust or two is possible.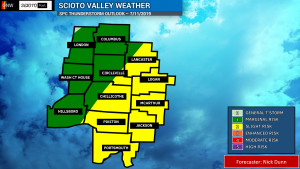 Expect afternoon highs in the upper 80's to near 90 today. While it is a touch cooler, the humidity will linger and help showers and storms produce heavy rainfall at times. Watch for areas of ponding water or flooding in the heaviest rains.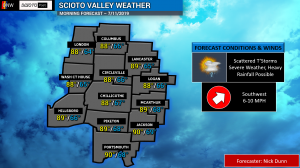 Remain weather aware today, and we will keep you advised of anything that develops over on Scioto Post & Ohio News & Weather on Facebook!
Make it a great Thursday! Tomorrow is looking drier and a bit cooler as we end another work week!