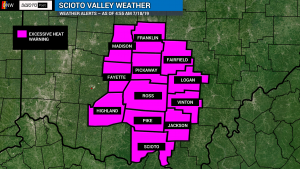 We now have an EXCESSIVE HEAT WARNING for just about everyone that begins this afternoon and runs through Saturday. We could see this extended into Sunday in some form depending on when thunderstorms arrive. Hang in there!
…EXCESSIVE HEAT WARNING IN EFFECT FROM 2 PM THIS AFTERNOON TO
8 PM EDT SATURDAY…
The National Weather Service in Wilmington has issued an
Excessive Heat Warning, which is in effect from 2 PM this
afternoon to 8 PM EDT Saturday. The Excessive Heat Watch is no
longer in effect.
* HEAT INDEX VALUES…Around 100 today, and near or above 105
Friday and Saturday due to temperatures in the low and mid 90s,
and dewpoints in the mid 70s.
* TIMING…This afternoon through Saturday evening. Very little
relief is expected during the night with low temperatures only
falling into the middle and upper 70s.
* IMPACTS…Heat stroke, heat exhaustion and other heat related
illnesses will be possible, especially if you spend a
significant amount of time outdoors, or are involved in any
strenuous outdoor activity. The cumulative impacts of heat on
the human body can be significant when consecutive days of
excessive heat occur.
PRECAUTIONARY/PREPAREDNESS ACTIONS…
Wear light weight and loose fitting clothing and drink plenty of
water. If possible, spend more time in air conditioned or well-
ventilated places. Reschedule strenuous outdoor activities to
early morning or evening. Friends, relatives, or neighbors should
check on the elderly and people with chronic ailments, who are
usually the first to suffer from heat-related illness.
To reduce risk during outdoor work the Occupational Safety and
Health Administration recommends scheduling frequent rest breaks
in shaded or air conditioned environments. Anyone overcome by
heat should be moved to a cool and shaded location. Heat stroke
is an emergency, Call 911.