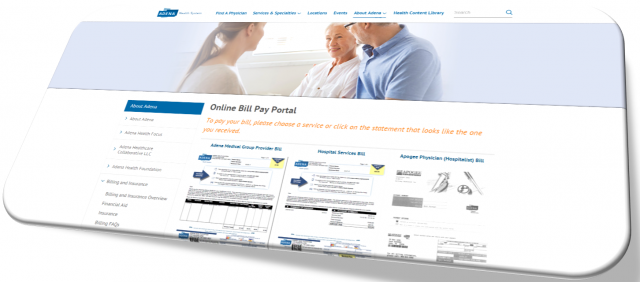 CHILLICOTHE
Adena Health System has unveiled a new, easier-to-navigate online bill pay system for its patients. The updated web page, located at http://www.adena.org/paymybill gives users instant, online access to make payment for services. Previously, patients had only direct online access to pay Adena-specific charges, though they may see contracted providers or use contracted services during a visit. As with many U.S. hospitals and health systems, these contracted providers and companies charge for their services separately.
- Advertisement -
 "By creating a single place for our patients that links them to all of the providers and groups that deliver services at Adena, we hope to make the bill paying experience one that is less confusing and easier to navigate," said Adena's Chief Financial Officer Lisa Carlson. "The improvement of our payment page is just one part of our long-term project to significantly improve the processes and technology we are using for patient billing."
- Advertisement -
 Adena is undergoing a full-scale analysis and fix to its Revenue Cycle. In health care, the Revenue Cycle touches every aspect of a patient's visit to a clinic, for a surgery or a hospitalization, from the point of registration to payment for services.
 On the newly-designed bill payment page, patients can see images of statements matching those they may receive after a hospital or doctor's office visit. Statement links include: Adena hospital charges; Adena Medical Group professional charges; and those from contracted providers and services delivering care at Adena facilities. These contracted providers and services include: hospitalists (Apogee), Emergency Department providers (Schumacher Group/Team Health), radiologists (Columbus Radiology), anesthesiologists, lab/pathologists (CORPATH), Home Care, and Hospice.
- Advertisement -
 Adena began its Revenue Cycle improvement project in January 2017. Improvement work will be ongoing and patients will notice improvements, such as this new, bill pay technology.