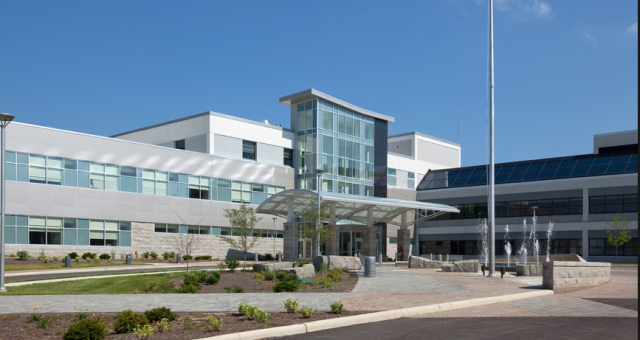 CHILLICOTHE – For the first time ever, Adena Regional Medical Center, located in Chillicothe, has been named one of the nation's 50 Top Cardiovascular Hospitals by IBM Watson Health. 
IBM Watson Health recently released its annual 50 Top Cardiovascular Hospitals 2018 study, conducted by Truven Health Analytics, which is now part of IBM Watson Health. The study identifies the top U.S. hospitals for inpatient cardiovascular services, based on hospital performance metrics that identify the highest performing cardiovascular service lines in the nation. 
"To be listed among the nation's Top 50 Cardiovascular Hospitals, along with our recent achievement of performing Adena's 1,000th open heart surgery case, are exciting testaments to the talent and dedication of our cardiovascular providers and staff," said Adena President and CEO Jeff Graham. "Our tremendous cardiovascular team, along with many providers and caregivers throughout the organization have helped us achieve this important milestone and gain national recognition."
 Adena Chief Physician Executive & Chief Medical Officer Dr. John Fortney added, "This is clear evidence that we have high quality providers in our Cardiovascular service line. We were in competition with more than 400 like-size community hospitals, and were one of the few selected to the Top 50 in the nation from that category." 
Adena Health System has full-line of top-rated cardiovascular services for our communities and patients, offering care for a variety of heart health needs. These services range from managing a chronic heart condition; testing for heart disease; minimally-invasive services, such as catheterization; cardiac rehabilitation; and a highly-successful open heart surgery program. 
"This will help to make patients in our region more aware of what we offer right here in Chillicothe," Graham added. "It should also reinforce to those in our community that they don't need to travel away from home, and their family support system to receive great heart care." 
The Watson Health 50 Top Cardiovascular Hospitals study measures achievements in key performance areas, including: risk-adjusted inpatient mortality, risk-adjusted complications, percentage of coronary bypass patients with internal mammary artery use, 30-day mortality rates, 30-day readmission rates, severity-adjusted average length of stay, wage- and severity-adjusted average cost per case and, new this year, CMS 30-day episode payment measures. The study has been conducted annually since 1999.
According to the researchers, if all cardiovascular providers in the U.S. performed at the level of Adena and the other 49 winners: 
·         Nearly 8,900 additional lives could be saved
·         Nearly 3,700 more bypass and angioplasty patients could be complication-free
·         More than $1.4 billion could be saved
To determine the 50 top U.S. hospitals for heart care, IBM Watson Health researchers analyzed 2015 and 2016 Medicare Provider Analysis and Review (MEDPAR) data, 2016 Medicare cost reports and Centers for Medicare & Medicaid Services (CMS) Hospital Compare July 1, 2013-June 30, 2016 data. More information about this study, and other 100 Top Hospitals research is available at 100tophospitals.com.
Since 1993, the Watson Health 100 Top Hospitals program has used independent and objective research to guide hospital and health system performance. Organizations do not apply or pay for this honor, nor are paid to promote their award. Award-winning hospitals and health systems prove that better care is possible and provide an example for other organizations to follow across the industry. The 100 Top Hospitals award winners demonstrate top performance on both how patients are cared for under clinical measures and how the hospital performs as an efficient business.