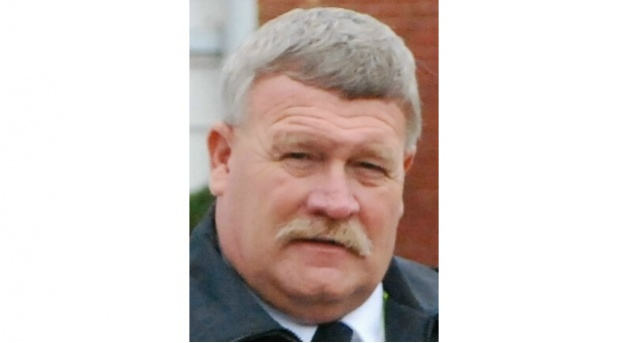 ASHVILLE – Friends and colleagues are remembering Doug Clark this week as a great friend and a tireless supporter of his community.
Clark, 60, passed away Nov. 11 after a several-year battle with cancer.
In addition to currently serving as Chief of the Ashville Police Department, Clark also was just re-elected to a fourth term as Harrison Township Trustee and was an active member of the Ashville Community Men's Club.
He also had a long history of public service that included the Pickaway County Sheriff's Office, the South Bloomfield Police Department and a volunteer firefighter and EMT for the Harrison Township Fire Department.
Clark will be laid to rest Friday at Harrison Township Cemetery in South Bloomfield.
"Doug loved his community and was always involved, whether it was going to football games at Teays Valley or trick-or-treat," said Chuck Wise, Ashville Mayor and long-time friend. "If there was something going on in town, he was always there. He always put the communty pretty much first."
Wise said his friendship with Clark began 50 years ago this year when the Clark family moved into Circleville and Doug was seated next to him in his third-grade class at Mound Street Elementary School.
"We've kind of been friends and together ever since," Wise said. "We had a lot of good times and a lot of mischievious times over the years, and we've worked together ever since we were 18 years old."
Wise credits Clark for his own career in law enforcement, which includes 18 years with the Ashville Police Department and his current role with the Ohio State Highway Patrol. Clark also talked him into becoming a volunteer firefighter in their younger years.
"Doug got me on the fire department," Wise said fondly. "Doug got me on the police department. I don't know whether to be happy or mad at him. I always told him, 'Doug, it's your fault I'm doing this.'"
Dwight Radcliff, retired Pickaway County Sheriff, remembers Clark as a young boy when his father came to work as a Pickaway County deputy. When Clark grew up, he followed in his father's footsteps as a deputy for a time.
"He was the marshal over at Williamsport before I hired him as a deputy," Dwight Radcliff said. "I don't remember how long he was with us, but he did a good job. When he applied for the job at Ashville, I gave him good marks, and he got the job."
Dwight Radcliff said he was heartbroken when he heard Clark had cancer, but it didn't seem to stop him from getting out to serve his friends and his community. He said he remained active, even during the election for Sheriff Robert Radcliff's second term.
"There was an event, and I wasn't sure if Doug was going to be able to make it down there," Dwight Radcliff said. "But there he was, in his uniform with his cruiser. And whatever was happening around Ashville, even as sick as he was, he would still come out if something was happening in the community."
Joe DeFelice, fellow Harrison Township Trustee, also noted Clark's community service as something very important to him.
"Every situation that was brought before the trustees while I was zoning inspector and after I became trustee, Doug did his best to look out for the people in the community," DeFelice said. "He was heavily involved in every aspect of his community, in Ashville and the township itself. To be honest, it's going to be very difficult to find somebody to fill Doug's shoes."
Dave Rainey, member of the Ashville Community Men's Club and Ashville village council, worked with Clark in both capacities but first and foremost considered him a friend.
"He was just all-around a really, really good guy," Rainey said. "Doug was one of the anchors of the Men's Club. Over the years, he served as president, committee chairman and was always right in the middle of all the decisions of the club and the directions we were going."
Rainey said Clark's roles as police chief and Men's Club member often went hand in hand, and they were fortunate to have law enforcement intimately involved in community events like the Ashville 4th of July, Halloween and Christmas celebrations.
As a council member, Rainey said he couldn't have asked for a better police chief for the village than Clark.
"He was always really calm and never got too awful upset about things," Rainey said. "I admired that."
Sheriff Robert Radcliff said he considers Clark a brother, a partner, a friend and a fellow director of a local law enforcement agency with whom he was proud to work side-by-side for the citizens of the community.
"He will be greatly missed by me and other chiefs in the county," Sheriff Radcliff said. "Doug was someone you could always call on and was always right there with you for whatever needed to be done."
He said the citizens of Ashville and Harrison Township were lucky to have them in their lives, and he feels fortunate to have been a part of that.
"Doug was loved," Sheriff Radcliff said. "He won't be replaced, and he won't be forgotten, that's for certain."
Sheriff Radcliff said Clark will be honored with a law enforcement funeral that will also include honors for his service with the fire department, township and Men's Club.
Visitation will be held from 2 to 8 p.m. Thursday at Village Chapel Church, 
30 Circleville Ave., Ashville
, with a funeral service at 11 a.m. Friday. Interment will follow at Harrison Township Cemetery.
The family request in lieu of flowers contributions may be made to Berger Hospice or the Chief Clark First Responder Scholarship Fund, c/o Nikki Clark, Oliver-Cheek Funeral Home, 420 W. Main St. Ashville, OH 43103.
Proceeds will be used to help fund a scholarship to a Teays Valley or Logan Elm graduate who plans to pursue a career as a police officer or firefighter/EMS.