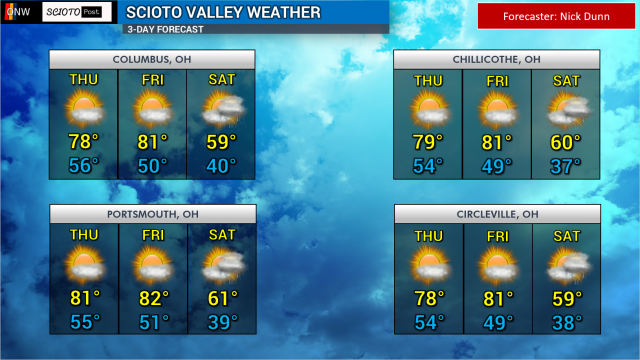 OHIO — Good Wednesday Evening! Let's take a look ahead at the next few days and plan your lives! First off, we will see temperatures remain above average through Friday with highs in the 70's to lower 80's. On Friday Night into Saturday, a very strong cold front will bring some showers, gusty winds, and MUCH cooler temperatures to the area.
Some patchy frost is possible in outlying areas Saturday Night for areas that are prone to getting much colder (valleys, low-lying areas). Temperatures will drop into the 30's to around 40 for lows. Saturday during the day will feature rain showers ending, but with some blustery winds, it will feel like a true Fall day!
Enjoy the next 48 hours or so of warmer temperatures and summer attire! The long range looks to be more seasonable with better chances of much needed rainfall!