Columbus, OH – The dry run without much appreciable rainfall continues across the area. The latest drought monitor from NOAA was released this morning, and there were a few changes across the Buckeye State as very few of us saw any rain within the last week. Of greatest concern is the Miami Valley, where a Moderate Drought continues.
20% of the state is of Ohio is at least Abnormally Dry, meaning some rainfall would be nice, but it is not a major issue. In the Miami Valley, this is where rainfall is most needed (denoted by the light orange Moderate Drought in the first photo above). Soils are drying up, which means lower humidity, and warm afternoons with the plentiful sunshine we have had lately.
Fall color will be delayed or not happening for some places as a lack of rainfall means a lack of color. Some leaves may dry up and just fall off on their own without going through color changes.
WHEN WILL WE SEE RAIN? This is the question many of us want to know! Looking at the latest precipitation outlook, it looks like many of us could see more than 0.5″ over the next five days, which would help! Also, cooler temperatures (but still above average) will continue next week.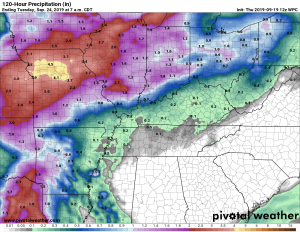 Hang in there! Hopefully you can get by without watering too much through the weekend!