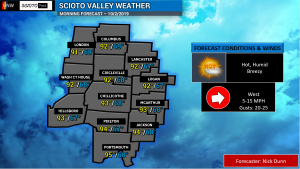 Good Wednesday Morning! Was Tuesday too hot for you? If so, not much relief is expected today. We will likely see temperatures a degree or two cooler, but still very hot. Remember to stay hydrated and stay cool today! Excessive heat can take a toll on your body if you are not beating the heat. Record highs are expected once again.
We will stay dry and breezy today with gusts of 20-25 MPH expected through the day today. This will make it a little less oppressive and keep dewpoints in the lower to middle 60's instead of the 70's.
By this weekend, this heat wave will be history! The only downfall is we are not expecting any significant rainfall. There is a good chance of steady rain by late this weekend into next week.