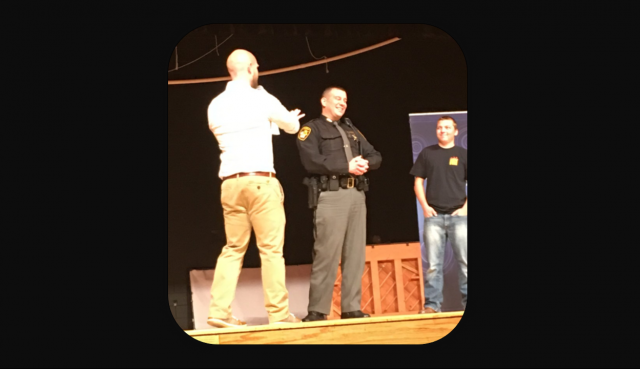 Pickaway County – On November 17, 2017, Pickaway County Sheriff's Deputy Matt Lane, school resource officer for the Westfall School District, was surprised when he received the "Hometown Hero Award" from 94.7, Sunny 95's Event Director Andre Friederich. Deputy Lane was nominated by student Isaac Layton from Westfall High School.
Westfall High School had assembled students for what Deputy Lane thought was a dedication ceremony for the new auditorium, but instead the assembly was to present him with the "Hometown Hero Award". Deputy Lane had to run to the front of the auditorium when a "fight" broke out between two students. Once the "fight" was under control, he realized the real reason the students were assembled.
"The young man that nominated me is a wonderful kid," Lane said.  "Since he's come to the high school he's been with me quite a bit and is always asking me questions about the job. He's even said he'd like to become an officer someday".
Every month, Sunny 95 and CME Federal Credit Union highlight a different community where a "Hometown Hero" is chosen.
Deputy Lane began his career with the Pickaway County Sheriff's Office on December 3, 2001 under the direction of Sheriff Dwight E. Radcliff.  He has worked as a Corrections Officer in the Corrections Division under then Lt. Robert B. Radcliff (now Sheriff). Deputy Lane completed Basic Training for Jail Personnel October 18, 2002 which was held at the Pickaway County Sheriff's Academy.  He completed his Ohio Peace Officer Certification at the Ohio University-Chillicothe from May 12, 2003 through November 12, 2003, and he also has an associate's degree from Hocking College.
On August 28, 2004, Dep. Lane was assigned to Road Patrol within the Pickaway County Sheriff's Office, where he served with integrity and honor. In addition to his role as the School Resource Officer, Dep. Lane also serves as a Deputy for Bike Patrol, Marine Patrol, SWAT, and Honor Guard for the Pickaway County Sheriff's Office.
Please join all of us at the Pickaway County Sheriff's Office in congratulating Deputy Lane for a job well done!
(Photo L to R: Andre Friederich (Sunny 95), Deputy Matt Lane, and Isaac Layton).