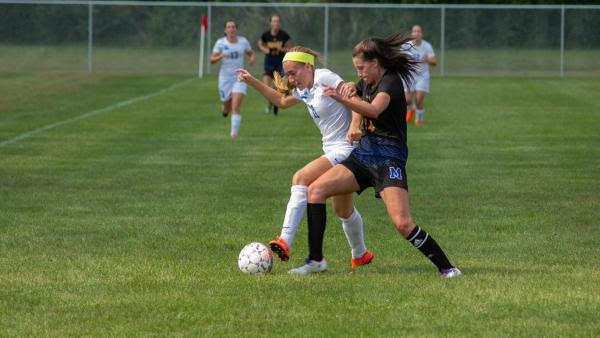 CIRCLEVILLE, OH – Entering Saturday's matchup with the Eagles from Asbury University, the Lady Trailblazers carried a chip on their shoulders that went back to the 2017 season. Facing the team that eliminated them from the postseason tournament last year, Ohio Christian came prepared, and that preparation would be evident in the team's 3-0 win.
The Lady Trailblazers would waste little time jumping in front, as Britt Piorkowski would find Brooke Lezotte on a perfect pass to set up what would prove to be the winning goal, adding to Lezotte's recent hot streak. The remainder of the first half would prove to be quiet, as both teams would battle for possession and scoring opportunities.
In the second half, Lezotte would strike once again, this time on a pass from Mylie LaFountaine. Brooke Wilhite would add on a late score to put the game away for good, with a final score of 3-0.
As a team, Ohio Christian would finish with two less shots on goal than Asbury, but would take better advantage of those opportunities. In the net, Emily Boyd would keep the Eagles off the scoreboard, saving all seven shot attempts by Asbury. With the win, the Lady Trailblazers find themselves sitting at the top of the River States Conference standings with a 2-0 conference record and a 5-3-1 overall record.
Next up, Ohio Christian will host Campbellsville University on Saturday, September 29th in a non-conference battle. The Lady Trailblazers next conference match will be against Point Park University on October 4th.
For more on the Lady Trailblazer Soccer program and the rest of Ohio Christian University Athletics, follow us on Twitter (@OCUtrailblazers), Facebook (Ohio Christian University Trailblazers), and YouTube (Ohio Christian University TraiIblazers)