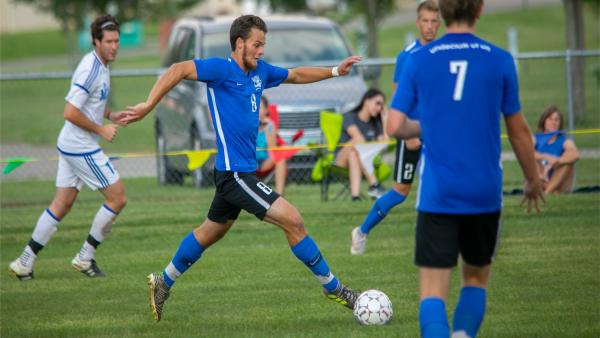 CIRCLEVILLE, OH – The Ohio Christian University Trailblazers hosted the Eagles from Asbury on Saturday evening in what would be the team's second River States Conference (RSC) matchup of the 2018 season. Coming off short rest from Thursday's game, the Trailblazers would struggle to find looks offensively, as Asbury would pull away in the second half in a 6-0 win.
The Eagles would strike quickly in the first half, as a goal in the 11th minute would give Asbury an early lead. Two more goals late in the first half would create a 3-0 lead, on which Asbury would add three more in the second half to pull away. As a team, the Trailblazers would be held to only two shots on goal, which would come from Kyle Luneke and Brody Baise both in the second half.
"Asbury is a quality team. I won't be surprised if they make a run for the conference title this year," said Head Coach Josh Murton. "They did a good job spreading the field and breaking down our defense. The tough part for our guys is we need a consistent performance. We do well in moments but we have yet to put a full 90 minutes together."
Next up, the Trailblazers will prepare to face Rochester College at home next Thursday. That game is scheduled to start at 4:00 PM. Overall, Ohio Christian currently stands at 3-6 and 0-2 in RSC play.
For more on the Trailblazer Soccer program and the rest of Ohio Christian University Athletics, follow us on Twitter (@OCUtrailblazers), Facebook (Ohio Christian University Trailblazers), and YouTube (Ohio Christian University TraiIblazers)