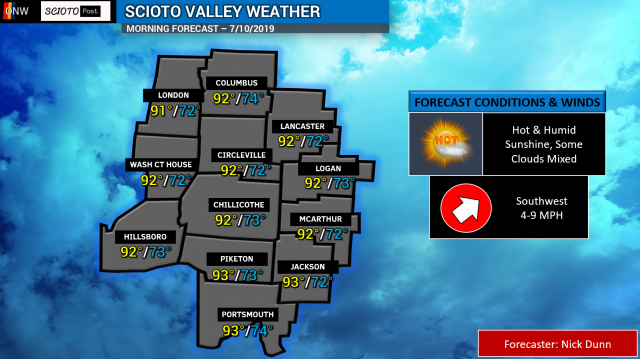 Forecaster Nick Dunn – Good Wednesday Morning, Scioto Valley! Who is ready for more heat and humidity? Today we will see highs in the 90's with higher humidity. This means the heat index will rise to near 100 for everyone today. You will want to stay cool and stay hydrated! Winds will not be helpful to keeping much air circulating, so please take precautions with the heat. Today is going to feel very much like July!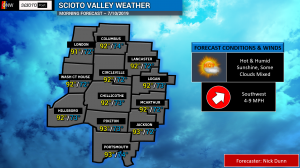 While we may see an isolated pop-up this afternoon, there is a much better chance of rain on Thursday. The risk of severe weather is still present, and we will carry an update on that a little later this evening! We are still monitoring for some strong storms, and the risk of severe weather may increase compared to yesterday's post.
HEAT INDEX: Here is a chart from the National Weather Service, showing what the heat index chart looks like. For today, we can expect highs between 90 and 94 with humidity values around 40-50%, which generates a heat index near 100.
Want more weather? Find more weather over on Ohio News & Weather with Nick Dunn and the entire team! Follow us on Facebook! Have a great Wednesday!