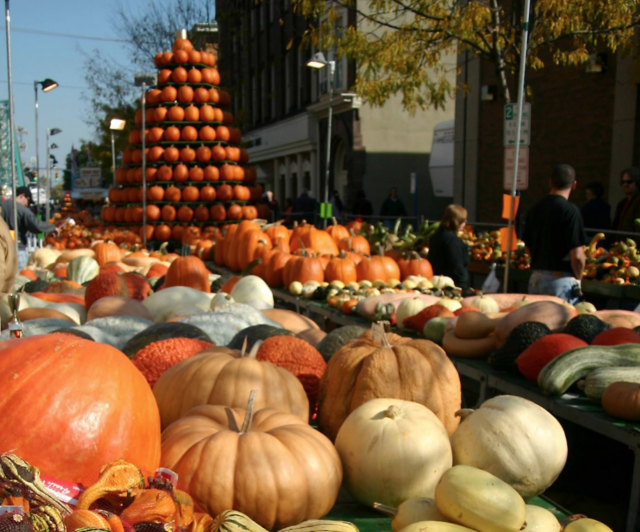 Circleville, Ohio – Fall in Ohio means harvest time and in Circleville that means
the Pumpkin. If you are looking for Giant Pumpkins or pumpkins to carve or bake
pies there is no better place to go than to one of the nation's largest and oldest
pumpkin festivals – the 113th Circleville Pumpkin Show, October 16-19 in
Circleville, Ohio just 25 miles south of Columbus in central Ohio.
The Circleville Pumpkin Show attracts over 400,000 visitors to this small Central
Ohio community of just over 13,000 people. Visitors from all 50 states and many
foreign countries come to see the giant pumpkins, parades, entertainment,
contests, and sample all the pumpkin flavored delicacies.
Pumpkin weigh off last year

Each year the Circleville Pumpkin Show opens with area pumpkin growers vying
for the coveted Giant Pumpkin Champion Trophy and $3000 for the first prize
winner from the Pumpkin Show and the Concessionaires who come each year to
the Show. The Giant Pumpkin Weigh In will begin at 9:15 AM on Wednesday,
October 16th.
The current Giant Pumpkin record at the Circleville Pumpkin Show is 1964
pounds grown by Circleville's Robert and Jo Liggett for the 2014 Pumpkin Show.
2018's winner grown by Mark Litz weighed in at 1607 pounds and it was only his
second year growing Giant Pumpkins.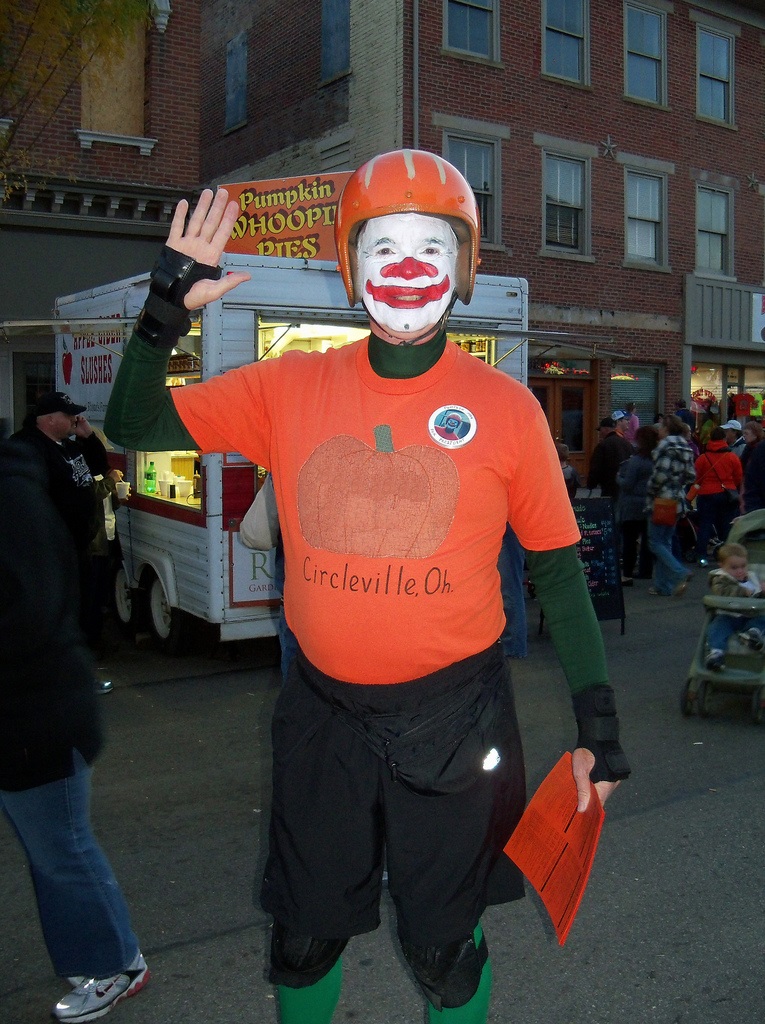 Bakers at Lindsey's Bakery in Circleville will continue their 60 plus year tradition
of making one of the world's largest pumpkin pie during the Pumpkin Show. Last
year's pumpkin pie weighed over 400 pounds and stretched 6 feet in diameter.
The pie takes 6 hours to bake, is cooled for 6 hours, and then displayed at the
bakery during the four-day pumpkin extravaganza.
On Wednesday on the Pumpkin Show Park Main Stage you can participate in the
Giant Pumpkin Pie Auction at 2:00 PM. This event will be sponsored by e-Merge
Crossroads Real Estate and Pritchard Auctioneering and the donations received
from the sale will benefit the Pumpkin Show Park and Ted Lewis Park.
What started as a gathering of local farmers proudly displaying their crops is now
an event which is reportedly Ohio's oldest and largest festival and has been
called "The Greatest Free Show on Earth". There is no admission fee so anyone
can come and enjoy the Show.
Parade of Bands

The Circleville Pumpkin Show is filled with family entertainment including live
music, 7 parades, each with a different theme, and over 400 booths offering food,
retail, games and crafts for sale. In addition to its Miss Pumpkin Show Contest,
the Pumpkin Show also features fun, crowd-pleasing contests including Pumpkin
Pie Eating for both kids and adults, Big Wheel Racing for 4 & 5 year olds, a Pet
Parade and contest and entertainment on several stages throughout the event.
For the fifth year, we are proud to host the Lima Company Memorial –"The Eyes
of Freedom" a very powerful tribute to the Lima Company, 3 rd Battalion, 25 th
Marine Regiment which was one of the most heavily engaged combat units in the
Iraq War. During it 2005 deployment, 22 Marines and 1 Navy Corpsman gave
the ultimate sacrifice in service to our nation and this memorial honors those
heroes.
This is the third year Pumpkin Show will be hosting The Spirit of America's Story,
The Wall, a traveling exhibit commemorating our Country's Fight for Freedom
from 1775 to the present. The Wall is a richly illustrated visual story of America's
struggles for freedom, a visual walk through our country's history and our fight to
be free. The goal is to capture and preserve the spirit, the sacrifices and rich
history of the American people. Both displays will be located at Memorial Hall at
the corner of Main Street and Pickaway Street.
Kissel Brothers, who have been providing amusement rides for Pumpkin Show
for many years, will return this year. Special wristband ride discounts are
available each day of the Show from 10 AM to 4 PM.
Many of the foods at the Circleville Pumpkin Show are pumpkin-related:
pumpkin pies, donuts, cookies, burgers, pizza, tacos, chili, elephant ears,
pancakes, taffy, ice cream, cake, waffles, cream puffs, fudge, brownies and
many other pumpkin treats. There are thousands of pumpkin pies and over
100,000 pumpkin donuts sold during the four days. New this year are Pumpkin
Spice Bubble Iced Tea and Pumpkin Buckeye Bars. So visit our many food
vendors for these pumpkin delicacies.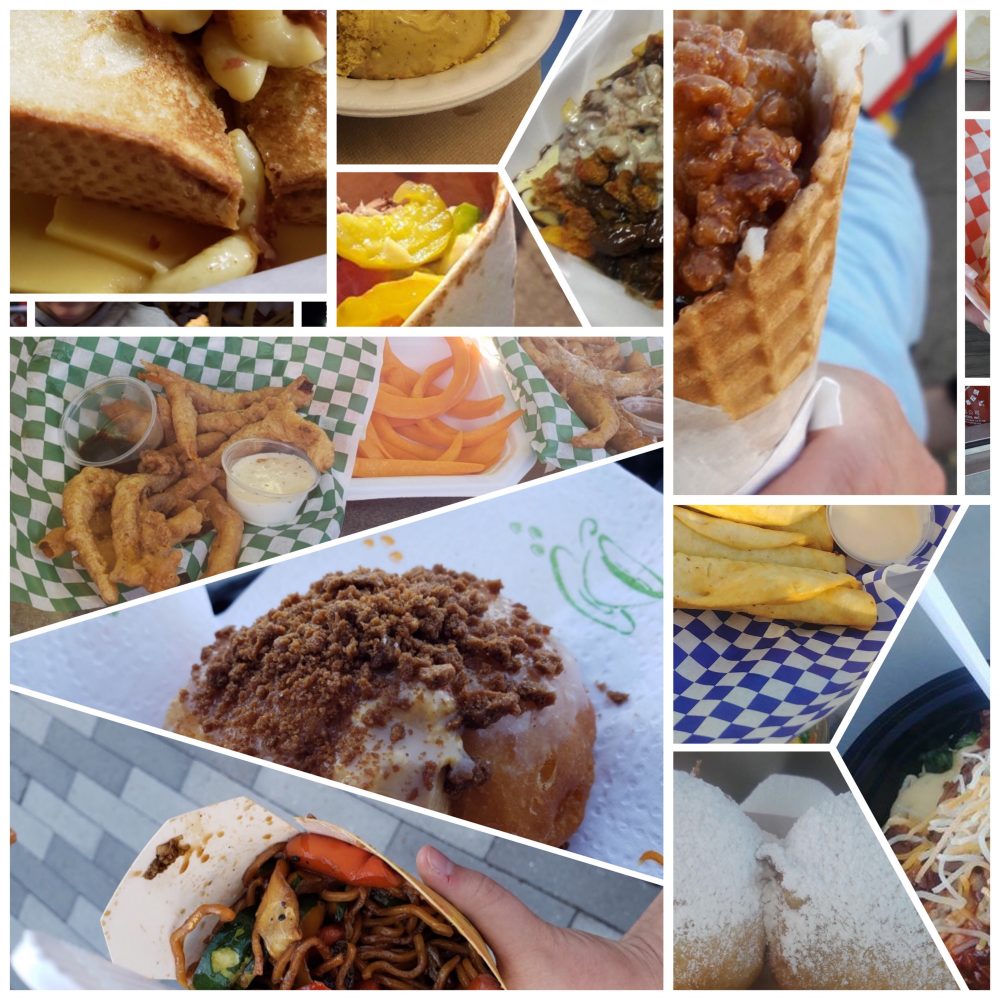 The Circleville Pumpkin Show covers more than nine city blocks in downtown
Circleville. More than 100,000 pounds of pumpkins, squash and gourds are
featured in street displays. There are also displays of canned goods, baked
goods, a flower show, arts and crafts, fruits and vegetables, and a fine art show.
For more information on the Circleville Pumpkin Show please call 740-474-7000
or go to our website at www.pumpkinshow.com