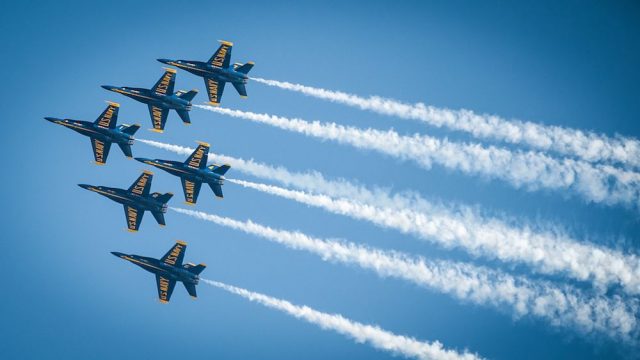 OHIO – The Blue Angels will be coming to Ohio in 2020 twice once at the Dayton Air show and once in Cleveland. This may be the last time you see the Blue Angels in the Legacy Hornet aircraft.
Vactren Air Show officials say that they plan to have them perform in the 2020 show on June 27-28 – Dayton, OH
he 110-member squadron is led by Blue Angel #1 Commander Brian "Boss" Kesselring. Flying only 18 inches apart in some cases, and have been flying since June 15, 1946 in Jacksonville, FL!
The Angels will soon be retiring the Legacy Hornet aircraft and seven others have been used prior, the Grumman F6F Hellcat, Grumman F8F Bearcat, Grumman F9f-2 Panther (first jet), Grumman F9F-8 Cougar, Grumman F11F-1 Tiger, McDonnell Douglas F-4J Phantom II, and the McDonnell Douglas A-4F Skyhawk II.
Blue Angels will be also performing in Cleveland at September 5-7 – Cleveland, OH