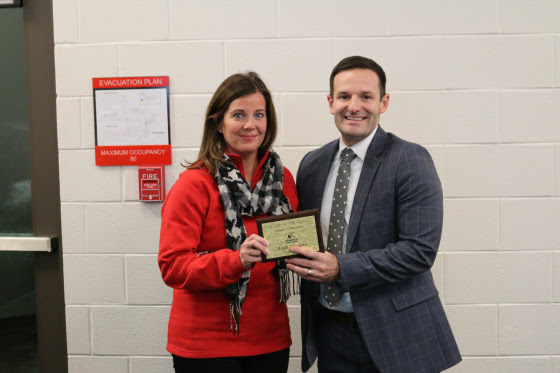 Circleville City Schools – Circleville Elementary School Art Teacher Andi Hoskins has been named an Ohio Lottery Partners in Education Teacher of the Month for the month of November in District 5 (Columbus-area).
Hoskins, in her fifth year at Circleville City Schools and 18th year in teaching overall, was nominated for the award in recognition of her immeasurable contributions in expanding academic experiences for her students.
Per the Ohio Lottery Teacher of the Month program, the award "is designed to recognize outstanding faculty for their contributions to their school, excellence in the classroom, leadership, innovation, community, involvement, dedication, and work on behalf of Ohio students in grades K-12."
For a teacher to be eligible, they must demonstrate the following:
• Excellence in the Classroom – Consistently advancing students to higher levels of academic achievement.
• Motivation – Encouraging students to exceed their expectations both academically and socially.
• Leadership – Serving as a leader in the classroom and throughout the school.
• Community Service – Demonstrating civic responsibility by being active in community or other service organizations.
• Creativity and Imagination – Demonstrating innovation in lesson plans and teaching methods.
• Dedication – Showing excellent attendance, punctuality and a desire to see students succeed.
This past November 16th and 17th, Hoskins again organized and spearheaded the annual 1st grade field trip to the Columbus Museum of Art. As a part of that trip, she collaborated with the Circleville City School Foundation to create an experience that included student artistic discovery in the museum workshop and a walking tour of the gallery floor.
In addition to the field trip, Hoskins has led a series of invaluable family-driven art workshops over the past two years in the form of "Cookies and Canvas" events after school. The events have been a huge draw and have fostered and strengthened a familial culture and bond between the school and our Tiger families.
In recognition of her indelible impact in using art as a platform to enrich lives, Hoskins was publicly recognized at the December 13th meeting of the Circleville City School District Board of Education for her honors.