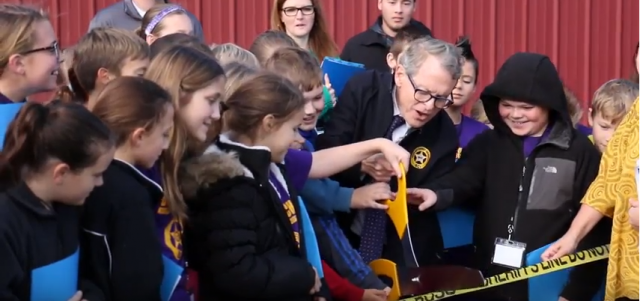 CHILLICOTHE
Ohio Attorney General Mike DeWine joined dozens of students and their teachers from Ross and Pickaway counties as they experienced a Bureau of Criminal Investigation (BCI) Science School learning day at a Chillicothe barn, designed to spark fourth grade students' interest in careers as forensic scientists and law enforcement investigators.
"We hope kids can experience what it's like to be a forensic scientist or a detective now, while they are young, and that experience will spark their interest in a possible career down the road.  That's why we created BCI Science School," said Ohio Attorney General Mike DeWine. "Taking the basic BCI curriculum to the next level out in the field, as we are doing today in partnership with teachers, is a creative way to keep kids interested in learning."
Launched statewide in March, BCI Science School was developed by the Ohio Attorney General's Office to help expose fourth grade students in the classroom to the careers of forensic science, criminal investigation, and related careers at an early age. Students conduct hands-on, inquiry-based experiments in class and solve relevant challenges using critical thinking and problem-solving skills. The program is available at no charge to Ohio teachers and students and is available on the Ohio Attorney General's website.
About 50 students from three elementary schools participated in today's extension of traditional BCI Science School. At a Chillicothe barn, kids conducted six experiments involving science and math that build upon the BCI Science School curriculum they've already been through at their school. Those experiments involved fingerprint lifting, water pH samples, crime scene measurements, barn measurements, shoeprint sample comparisons, and crime scene investigative tools.
A teacher from the Union-Scioto Local School District came up with the idea for students to extend their BCI Science School learning in a barn setting. BCI staff and local law enforcement partners helped make her vision a reality for students.
Students and teachers who participated today were from Unioto Elementary (Union-Scioto Local School District in Ross County), Huntington Elementary (Huntington Local School District in Ross County), and Circleville Elementary (Circleville City School District in Pickaway County). Many Ross and Pickaway county officials and law enforcement leaders were also in attendance, including Ross County Sheriff George Lavender and Pickaway County Sheriff Robert Radcliff.
To view the BCI Science School curriculum, please click here. Teachers with questions about implementing BCI Science School in their classrooms can contact [email protected].