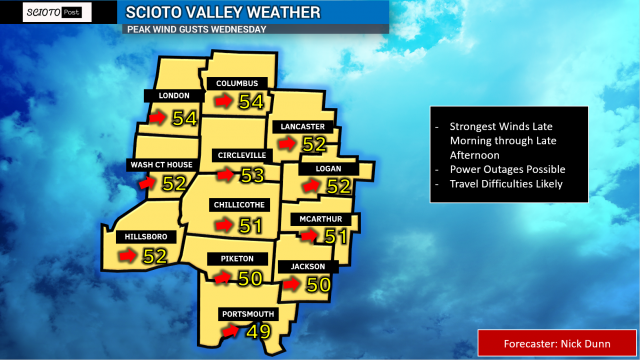 OHIO — Have travel plans Wednesday? You will have a weather hazard to contend with as the entire area is under a WIND ADVISORY from Wednesday Morning through Wednesday Evening. A strong low pressure system will bring rainy conditions tonight into Wednesday. As the tight pressure gradient moves through, west/southwest winds of 20-35 MPH with gusts of 45 to 55 MPH are likely.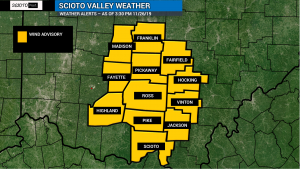 Winds of this magnitude can cause property damage if loose outdoor items are not secured. Also, be prepared for the potential of power outages as gusts like this can cause tree damage or cause power lines to be damaged.
Stronger gusts will be possible across Northern Ohio into Michigan, Illinois, and Indiana where gusts to 60 MPH are possible. Keep in mind that we say a thunderstorm is severe when gusts reach 58 MPH, so we will be kind of close to those levels tomorrow! Winds will diminish slowly after sunset. It would be a great idea to charge your devices in case power outages occur!
Be sure to use two hands on the steering wheel, especially those driving tractor trailers! Also, be sure to allow extra travel time. Those driving along routes like US-33 and US-23 may face the biggest troubles with a direct crosswind impacting travel with winds out of the west/southwest. Plan your travel accordingly!