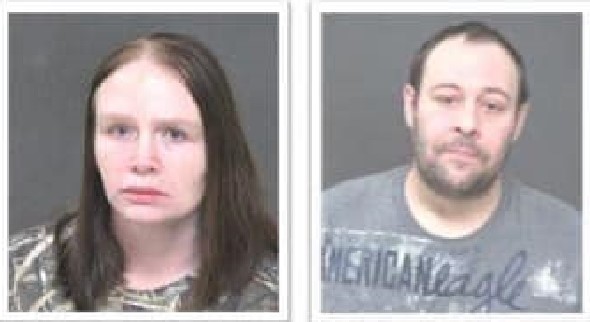 Ryan Norman received 12 years on three second-degree felony counts of endangering children with a prior offense, and Wendy Norman received six years on three third-degree felony counts of endangering children.
Due to Ryan Norman's violent history of abusing drugs, women and children, the State requested a sentence somewhere between 15 and 18 years.
"These children have already been sentenced to a lifetime sentence of working through the trauma," Assistant Prosecutor Molly Martin said in court.
In October 2021, the children found the courage to report the physical and emotional abuse they were suffering at the hands of their parents to school authorities. Children's Services removed the three kids from their home the same day.
"These children have suffered tremendously," Judge Mark Fleegle said before delivering Ryan Norman's sentence Wednesday. "If it wasn't for their courage to come forward and report this, it would probably still be going on."
While disclosing their abuse to investigators, the child victims described nearly two years of maltreatment at their Maysville Pike home.
Confined to an attic covered in filth and animal feces, the children often went without eating even when there was food in the house and suffered regular beatings.
The children told officers that both parents beat them, but Ryan was the main perpetrator.
The kids described being slapped to the point of bruising. Both parents used a belt to beat the children on their legs, backs and hands, which left marks on their bodies. The children told investigators of a wooden stick that Ryan hit them with that caused them to bleed, in addition to a wooden board that broke the last time Ryan used it to hit the oldest child.
When police searched the house on a warrant, they found both a wooden paddle and a wooden dowel, similar to a pool cue stick.
The kids spoke of different occasions when Ryan would strangle them until they couldn't breathe, including one Christmas Eve when the father strangled all three children and called them "ungrateful brats."
In addition to physical abuse, the children were also exposed to their parents' drug abuse. One child recalled her mother treating her head injury from a fall with a Percocet in her drink that caused her to sleep all day. The child also remembered a time when Wendy and Ryan fed her muffins mixed with marijuana, but they didn't tell her they were laced until after she ate them.
The children told investigators how Wendy and Ryan frequently abused Xanax and Percocet pills, describing how their parents snorted and swallowed the pills in front of them.
The oldest child reported that one time Ryan and Wendy took her with them to a drug house to get pills, and someone pulled out a gun and threatened to kill them.
Officers found evidence of drug use throughout the living areas of the home, including smoking pipes, grinders, a glass plate and a snorting straw.
Both Ryan and Wendy Norman minimized their actions by blaming it on their drug addiction.
"The belief that drug addiction harms no one but the user is a myth," Prosecutor Ron Welch said. "People continually using drugs and people empowering them to use drugs by minimizing the behavior promote a culture that is dangerous to our children, families and community."
During Wendy Norman's sentencing, Assistant Prosecutor John Litle explained that he has prosecuted many people in addiction, but "very few of them subjected their children to prolonged, outrageous physical assaults or drug their children."
Through their pre-sentence investigations, Wendy Norman indicated her intentions to be reunited with Ryan Norman and their children following their prison terms.
"Miss Norman is going to be a danger to her children no matter what," Assistant Prosecutor Litle said. "She doesn't get it at all. She's had a long time to get it right."