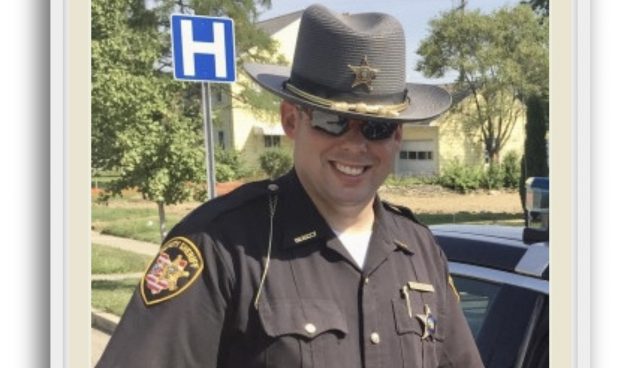 Zane Michael Beathard, 40, of London, died August 1, 2022, after a courageously fought battle with cancer. Zane was born June 17, 1982, in Columbus, Ohio, the son of William and Johnda (Beekman) Beathard.
Zane was a 2000 graduate of London High School, and received his bachelor's degree from The Ohio State University. Zane was a deputy for the Madison County Sheriff's Department where he served the county for over 11 years. Zane cherished his family and was always proud to be the ringleader amongst his six children.
Zane is survived by his loving wife of 6 years: Alicia (Steele) Beathard; Sons: Zaviar, Zaxtan, Zaydan, Zarak, Zawyar, and Zraikan; Siblings: Ashley (Tim) Winebrenner and Erica (Rob) Butler; Grandma: Alice Lipps; Grandpa: John Beekman; Nieces and Nephews: Natalie, Hailey, Bentley, Mollie, and Lincoln Winebrenner and Robbie Butler and Lachlan and Laina Steele; Mother in law: Eva Steele (Mike Terry); Brother in law Todd (Jessica) Steele; Ed and Joan Birmele; Numerous Great Aunts, Great Uncles, Aunts, Uncles, and Cousins.
Zane is preceded in death by his grandparents: Maurice and Nancy Beathard; Glenn Lipps; Uncle Lane and Aunt Marlene Beekman; Aunt Dawn Beathard; Cousin Shannon Beathard; Bill Birmele; Numerous Great Aunts, Great Uncles, and Cousins.
The family invites friends to call at the St. Patrick Church, 61 South Union Street, London, Ohio 43140 on Thursday, August 4, 2022, from 2pm- 4pm and 6pm- 8pm. A Mass of Christian Burial, officiated by Father Michael Hiterschied and concelebrated by Father Joe Yokum, will be celebrated at Saint Patrick Church, 61 S. Union St., London, Friday, August 5, 2022, at 11am. Interment will follow in the St. Patrick Cemetery, London.
In lieu of flowers, monetary contributions may be made in Zane's memory to a fund he created for his children's college education.
Funeral arrangements have been entrusted to the Lynch Family Funeral Home & Cremation Service. Online condolences may be sent to www.lynchfamilyfuneralhome.com.