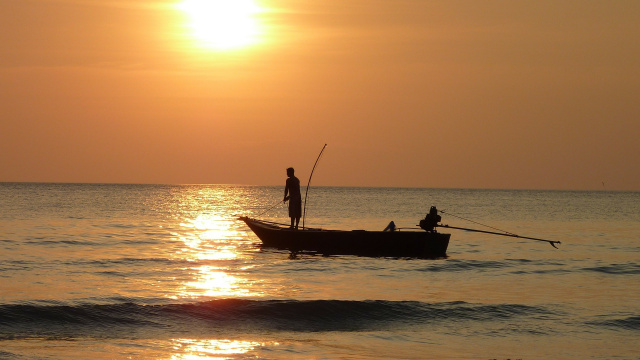 COLUMBUS, Ohio – Central Ohio's public lakes and reservoirs teem with fish such as saugeye, crappie, catfish, and more. Summer is a great time to grab a fishing pole and see what species you can catch, according to the Ohio Department of Natural Resources (ODNR) Division of Wildlife.
Ohio has 124,000 acres of inland water, 7,000 miles of streams, 2.25 million acres of Lake Erie water, and 481 miles of the Ohio River. At $25 for a resident one-year license, fishing is a cost-effective and accessible outdoor reactional activity. Youth under the age of 16 can fish for free, and all Ohio residents can fish without purchasing a license during Free Fishing Days on June 17-18. All size and daily limits apply during these two days.
The Division of Wildlife has numerous resources available to assist anglers, including lake maps, fishing tips by species, and fishing forecasts. Many of these resources are available right at your fingertips with the HuntFish OH mobile app. Fishing regulations and an interactive fishing map can be located from any mobile device. For more information on fishing tips and forecasts, go to wildohio.gov.
Here are a few areas in central Ohio anglers may want to visit:
Saugeye
Buckeye Lake (Licking, Fairfield, and Perry counties) – Buckeye Lake logged the most Fish Ohio-qualifying saugeye catches (at least 21 inches long) of any Ohio lake in 2022. There will be plenty of large fish for anglers this year with an abundance of 2-year-old saugeye in the 15-to 18-inch range in the lake. Buckeye Lake is shallow with minimal depth change and structure. Shore-bound anglers can target areas near Fairfield Beach, the pier at the North Shore boat launch, and the channels around Liebs Island. Boat-based anglers can find success catching saugeye through July by trolling crankbaits or pulling worm harnesses through the open water areas of the lake or in deeper channels.
Crappie
Indian Lake (Logan County) – Excellent populations of black crappie and white crappie abound in Indian Lake with good numbers of fish longer than 10 inches. In the spring, it is best to focus on backwater coves and channels with woody cover, vegetation, or docks. Target crappie using small jigs, various plastic baits, or crappie minnows. These baits are often presented under a slip bobber in and around cover. Fish disperse to main lake areas in the summer. When this happens, an effective way to catch crappie is by trolling small crankbaits at slower speeds, around 1.5 mph. Popular shore fishing spots include Old Field Beach and the Moundwood, Blackhawk, and Lakeview access areas. Boat anglers can utilize any of the five public boat launches as well as marinas with fuel and boat slips.
Largemouth bass
Alum Creek Lake (Delaware County) – Alum Creek Lake is one of the best bass fishing destinations in central Ohio with strong populations of largemouth and smallmouth bass. During the spring, anglers should direct their efforts to the reservoir's many coves, targeting submerged wood or rock with soft plastics or spinnerbaits. As the water temperature warms, bass move to offshore structure in the main lake. Boat anglers often target large points or drop-offs with plastic baits or crankbaits. Alternatively, shoreline anglers can find success all season fishing in vegetated areas with plastic creature baits or topwater lures. Bordering state park property provides unlimited shoreline access. Boat anglers can use four public boat launches as well as the newly renovated marina located on the western side. Alum Creek Lake allows unlimited horsepower and is often crowded with recreational boaters during the summer.
Channel catfish and blue catfish
Hoover Reservoir (Franklin and Delaware counties) – Consistently ranked as the best catfish fishery in central Ohio, Hoover Reservoir has great numbers of large channel and blue catfish. Blue catfish were first stocked in 2011, and the oldest individuals have already surpassed 40 pounds. Generally, the northern section of the lake (above Sunbury Road) hosts the best catfishing. A traditional technique is bottom fishing with worms, chicken liver, shrimp, or live or dead fish. Many anglers slowly troll a Santee Cooper rig baited with cut gizzard shad. Hoover Reservoir has a 10-horsepower limit on outboard motors. The reservoir has five boat launches, including popular accesses at Walnut Street, Redbank, and the newly renovated Oxbow launch.
This year, anglers can assist the Division of Wildlife with a study evaluating the blue catfish fishery at Hoover Reservoir. Some blue catfish will be tagged as part of this research. This research will provide a better understanding of the numbers, sizes, and catch rates in the reservoir. Successful anglers are asked to report all catches of blue catfish at wildohio.gov and include the following information: tag identification number (if applicable), date caught, length of fish, and if it was kept or released. Tagged fish can also be reported by calling the number listed on the tag.
Check the Ohio Fishing Regulations for details before casting a line.
Want to stay up to date on all fishing opportunities and updates? Follow the Division of Wildlife on Facebook and Twitter for instant news stories, outdoor recreation ideas, local wildlife information, and much more. Follow the Division of Wildlife on Instagram for images of excellent fishing around the state.
The Division of Wildlife wants to help new and experienced anglers make the most of their outdoor adventures. Visit the Wild Ohio Harvest Community page at wildohio.gov for information on getting started, fishing opportunities, and delicious recipes.