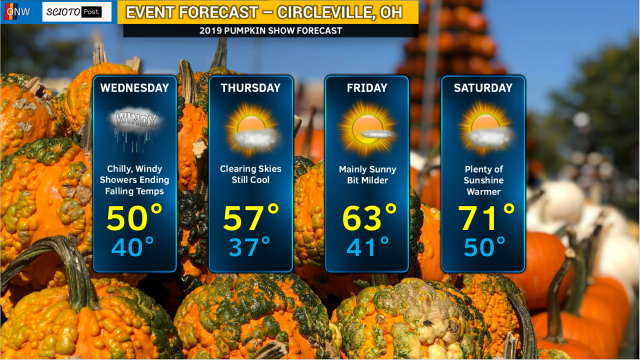 CIRCLEVILLE, OH — Who is ready for the 2019 Pumpkin Show? Taking an updated look at the forecast, Wednesday will not be the best of days to attend. Rain showers are looking to linger through Sunrise, but clouds will stick around. Also, winds will be quite gusty. The winds alone may make things not pleasant as gusts may reach at least 30 MPH looking at some models. The model below is for Wednesday Afternoon into the Evening, showing gusts near 30 MPH (wxcharts.com)
Rainfall totals through the next 72 hours will be between 1/4″ and 1/2″, so we will see some needed rain across the area!
On the flip side, we will see much improved conditions for the remainder of the Pumpkin Show, with temperatures gradually warming by Saturday! The parade also looks fantastic with plenty of sunshine! You will likely want a heavier jacket if you are going during the morning times as temperatures through Friday Morning will be cool.
Stay tuned as the forecast updates as we get closer to the Pumpkin Show!
Written by: Nick Dunn, Ohio News & Weather