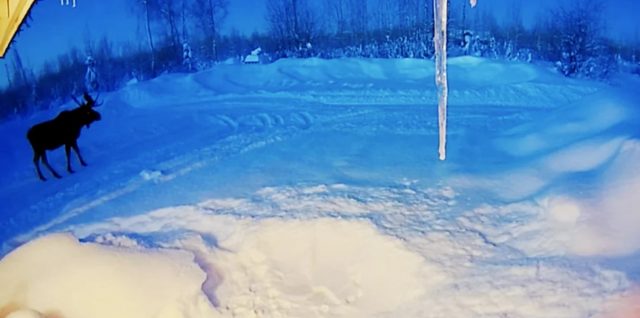 Alaska – A video has gone viral after catching something fairly rare to see, a moose shedding its antlers.
On December 15, 2022, in the cold region of Northern Alaska, a video was recorded after the doorbell camera went off, when the owner looked to see what was captured he was shocked.
Adult moose much like deer shed their antlers every year and then go through the process of regrowing them, during the next year. Sheds like this are a trophy for some people, some even hunt them like morel mushrooms in the Northern States. Even one of the two can be worth hundreds of dollars.
Usually, moose and deer shed one antler at a time, but in this viral video, you can clearly see that one shake and the moose loses both. He then startles himself obviously oblivious to what just happened. As he walks away he looks total different than what he did before.
In a follow-up video, the local men measure the antlers and report that the rack is about 54 inches in total. You can watch the video here: