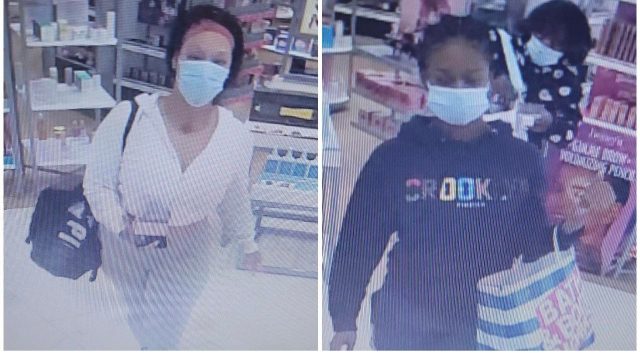 Chillicothe – Two women and a man are being investigated after a theft that became violent at the local Ulta on North Bridge Street on Sunday, Today Chillicothe police have released images from a security camera
According to the report, Employees reported that two African American women entered the store and loaded bags that they were carrying with the merchandise. Employees noticed the obvious theft and attempted to stop the individuals who forced their way through the employees and out the door.
One of the employees reported minor injuries saying, "my arms hurt."
The two women and man fled the scene on a Gray SUV.
Suspect descriptions are as follows; a black female wearing a
white shirt, gray pants, red headband, blue mask, and black bag; a younger black female wearing a black sweatshirt,
black pants, dark colored hair, blue mask, with a bath and body works bag; and a black male/female unable to
determine from camera footage wearing a black/white sweatshirt, white pants, blue mask, longer dark hair, with a bag.
The store employees reported that the theft was over 1,000 dollars in items.