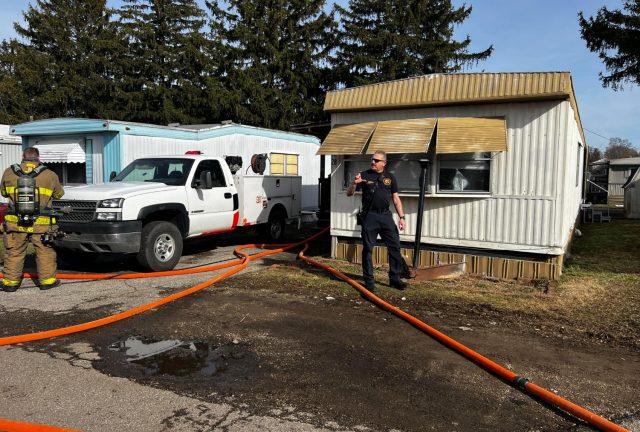 Circleville – A fire broke out in the city but a vigilant neighbor helped contain the fire and save the family pet.
Around 2:10 pm Circleville Fire department was called to the scene of a fire located at 510 Rennick Ave. When they arrived the fire was quickly extinguished.
A neighbor told Sciotopost on scene that he had came home and smelled smoke and then noticed that it was coming from a neighboring lot. The neighbor knocked repeatedly on the door and got no answer but could hear a "popping sound" inside. The neighbor, who wishes to remain anonymous, grabbed a fire extinguisher and kicked the door in, and put the kitchen fire out. After a quick walk through he didn't locate any persons, however, he did find the homeowner's dog, which he helped rescue, and left the building.
When firefighters arrived according to Fire Chief Thompson the fire had flashed and started to burn again, but it was only located inside the kitchen and was quickly put out. The home has some smoke damage and fire damage in the kitchen only.
The dog has since been taken to a local veterinarian to be checked.
The neighbor says that the family who lives in the location recently purchased the home.
Circleville fire, Pickaway Township, Harrison fire, and Saltcreek fire were all on scene