Pickaway – According to Commerical Point Police department shortly before 2 pm on 9/28/21, the Pickaway County Sheriff's Dept received several 911 calls of a reckless driver heading South on 104 in the area of Southern Point.
The Commercial Point Police Department was the closest car available in an attempt to stop the vehicle. Shortly prior to Commercial Point Police Chief Adam Jordan's arrival the vehicle in question had already passed SR 762 and struck a FedEx driver that was out of his delivery vehicle. The suspect vehicle rolled over before coming to a rest on its roof. The FedEx driver sustained serious injuries and the driver in the other vehicle also sustained injuries.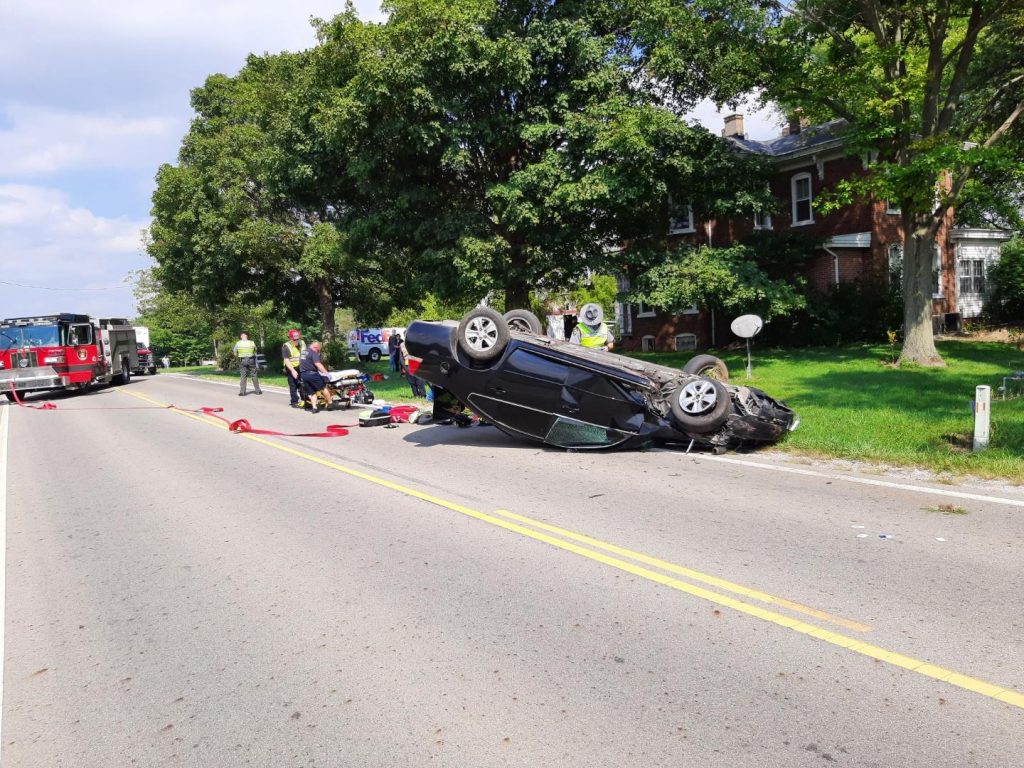 The driver George Carter, 34, of Hillsboro was believed to be impaired and a suspected contributor to the crash. He was transported to Grant Hospital with minor injuries. The Fed Ex driver Andrew Noltemeyer, 28 of Grove City who was making deliveries was struck by the car and transported to Grant Hospital with life-threatening injuries
Harrison Twp, Scioto Twp, and Jackson had also responded to the scene. SR 104 remains closed at this hour from SR 762 to SR 316.
No charges have yet to be filed against Carter, but the investigation is not closed yet.
Friends of Noltemeyer set up a go fund me due to his severe injuries and the impact on his work, here is the update sent to us on the go fund me: https://www.gofundme.com/f/help-andrew-noltemeyer-recover-from-his-accident?utm_source=fb_copy_link&utm_medium=social&utm_campaign=p_cp%20share-sheet&fbclid=IwAR3Y-Z5sXysQn394-HyPe3JToSZtz_a9ba-Mhimot6Tt53AHCXFwi-kQzo8