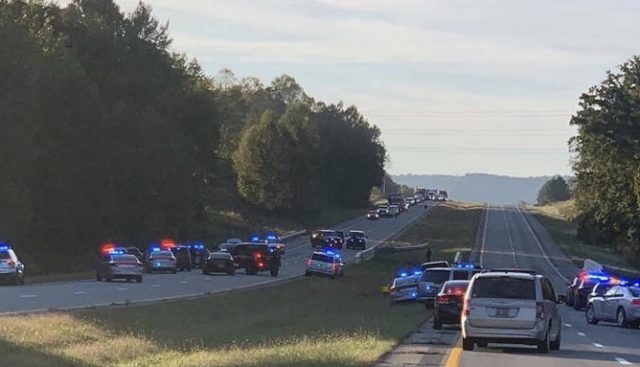 ADAMS COUNTY – At least two people are dead and one injured in a incident that included a shooting, a car chase, and a robbery in Adams county that ended in Pike County.
Around 7:30 am this morning a report of a robbery with one person shot was reported at the Marathon Gas Station on 32 and Main street on Adams County. At 7:41 am Sheriff James E Nelson Interim Sheriff of Pike was asked to assist in a chase that came into Pike county. At approximately 7:51 hrs, Adam County Sheriffs Office advised their office was currently in pursuit of a green Ford ranger traveling eastbound on US 32 entering Pike County Sheriffs at approximately 752 hrs.
Pike County Sheriffs deputies entered the pursuit along with multiple other law-enforcement agencies The pursuit continued eastbound on US 32 were stop sticks were deployed in the area of Tennyson Road which was unsuccessful suspect continued eastbound on US 32 when a second attempt of stopping the vehicle via stop sticks were made in the area of Shyville Road that was also unsuccessful suspects continue traveling eastbound on US 32. Approximately 8:02 hours the suspect was still being pursued eastbound on US 32 in the area Beaver Pike Road. The suspect vehicle suddenly left the roadway crossing medium in both lanes of westbound US 32 coming to rest in the ravine westbound side of US 32. Around 8:31 hrs, Pike County was advised the suspect was shot dead by a possible self inflicted gunshot wound.
Pike county sheriff did say that there was a possible 3rd incident that they are investigating now.
Police did report that two people were injured at the marathon gas station, a delivery driver not from the area was killed and the clerk at the gas station was injured but is in stable condition.
UPDATE: The Ohio Attorney General's Bureau of Criminal Investigation was requested this morning to assist the Adams County Sheriff's Office and the Seamen Police Department for an incident that occurred near the village of Seamen.
This is an ongoing investigation with developing details and multiple scenes. The suspect fled Adams County and ultimately took his own life – there is no further threat to the community.
Anyone with information about the crimes that occurred this morning is encouraged to call 855-BCI-OHIO (855-224-6446).
The incident is currently still under investigation by joint law-enforcement agency's , Adams County Sheriffs Office, Ohio state highway patrol district 9 ,Ohio Bureau of criminal investigation Bci the names of the suspect and Victims or any further information or details regarding this incident will not be released by this office any further questions pertaining to this incident please contact the listed agency's.