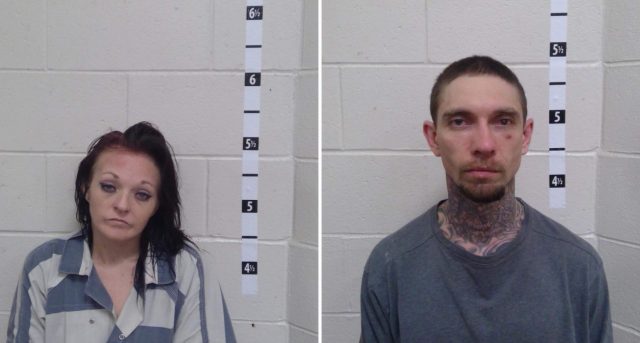 FRANKFORT – Two people are in custody for an armed robbery situation that unfolded in Frankfort yesterday.
According to Ross County sheriff's office on February 22, 2022, around 4:25 pm Ross County sheriff was dispatched to 7149 CR-550 on a report of an armed burglary in progress with two suspects still on scene.
Deputies arrived and spoke to a witness who advised that he had driven by the house, which he knew the owner, and observed a vehicle in the driveway that should not be there. The witness found a male and a female there that appeared to be burglarizing the residence. The witness confronted the two suspects and stated the male suspect produced a firearm and ordered him to the ground. The witness stated while he was on the ground he heard gunshots and then saw the two suspects flee into the wood line.
More deputies arrived at the scene and set up a perimeter. The two suspects were observed exiting the wood line and getting into a vehicle on CountyRoad 550. At that time, Deputy Roderick with the assistance of the Ohio State Highway Patrol conducted a felony stop on the vehicle at 5417 CR-550 and detained several individuals.

Through the course of the investigation, two subjects in the vehicle matched the description of the suspects from the scene and they were subsequently arrested and charged stolen items from the residence were also recovered in the vehicle.
Caitlin Ratliff was charged with
2911.01A1 – Aggravated Robbery _ deadly weapon on or
about suspect, control, display, brandish, indicate
possession, or use weapon.; 2911.12 – Burglary;
4510.16A – DUS – FRA & Random Verification
Suspension; 4510.16A – DUS – FRA & Random
Verification Suspension
Brandon Stodgel was charged with
2911.01 – Aggravated Robbery; 2903.11 – Felonious
Assault; 2911.12 – Burglary; 2967.15 – Violating Parole
Some details are still under investigation by Ross County Sheriff's office.