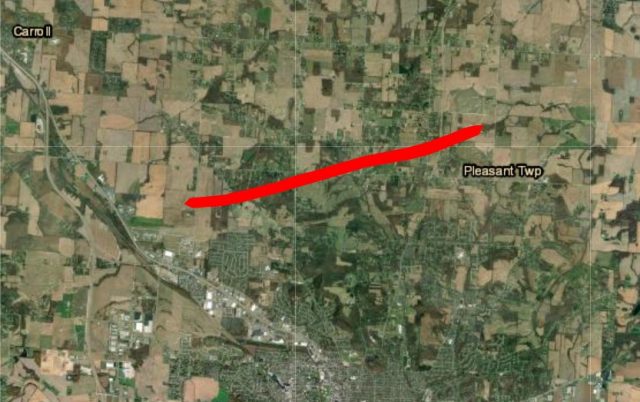 Fairfield County – The national weather service has confirmed that an EF0 tornado touched down in Lancaster during the April 5, 2023 weather event tearing metal off roofs, causing tree damage, and throwing items around.
Southern Ohio has received several tornados in 2023 so far, tornado activity has touched down in Ross, Pickaway, and Fairfield counties. During this event, National Weather is reporting that some damage was done in the area easy of Carroll.
The first sign of tornadic damage was observed along Election House Road NW, where an outbuilding lost several metal panels from the roof. These panels were found embedded within the trees of the neighboring property across the road. Additional tree damage and light structure damage was observed there. The tornado then crossed Rainbow Drive NW, with a clear path of tree damage observed on both sides of the road. Damage of similar intensity was found on the west and east sides of Lancaster Kirkersville Rd NW. The tornado then crossed Coonpath Road NW, between Stringtown Road NW and Lancaster Kirkersville Rd NW. Additional minor structure damage was observed at several properties along Stringtown Road NW, north of Coonpath Road NE. Additional tree damage was observed along the northern portions of the Pleasant Valley Golf Course. Intensity remained weak, but a clear path of
damage continued to be found along several properties of Tschopp Rd NE. The tornado then crossed Lancaster Newark Road NE with visible tree damage on both sides of the roadway. The final section of tree damage was located along Old Mill Road NE. No additional damage was observed east of this location, so the tornado likely weakened and dissipated before crossing Old Millersport Road NE. Throughout the path, the intensity of the tornado did not appear to change drastically, with similarly
observed damage from start to finish and maximum winds of 80 mph.