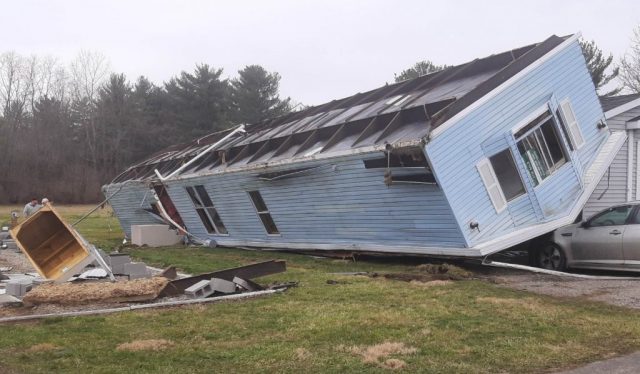 There have been 45 historical tornado events with a magnitude of 2 or above recorded in or near Circleville, Ohio, according to the USA.com website. On Feb. 27, a tornado touched down in Pickaway County, Ohio, during a storm surge in the afternoon. The National Weather Service confirmed the EF0 tornado, with a path length of 1.4 miles and 100 yards wide, and a maximum speed of 85 mph occurred near Orient at 4:03 pm and lasted for about two minutes.
The tornado, which started at South Harrisburg, caused a mobile home to flip to its side and another turned over onto its roof. A nearby residence at Foxlair Farms park was damaged and the roof of a garage torn off. The good news is the tornado caused only minor injuries. The major challenge residents in and near Circleville need to face is rebuilding damaged properties. Below are tips on how to rebuild after tornadoes.
Evaluate the Damage
Recovering after a tornado can be difficult, but it's possible if you follow the right tactics. First, you need to access the damage caused then start planning for repairs or rebuilding your home. Remember, there are several considerations when rebuilding your home after a natural disaster. Like with any land development project, you need permits to demolish the damaged property and rebuild. You'll also need to hire a reputable company specializing in demolitions, inspecting potential hazards underground like leaking gas and asbestos, and removing debris.
Clear Damaged Trees
Strong winds in a tornado cause trees to fall in and around your property, making it difficult for emergency responders to access and repair damaged utility lines and dangerous structures. With that in mind, it's crucial to remove fallen trees in or near your property following a tornado. Typically, clearing land for property redevelopment, like removing damaged trees, shrubs, grinding tree stamps, and getting rid of debris, can be challenging. Therefore, take time to search for a trustworthy Ohio tree service company to remove damaged trees. A reliable tree service company will also trim broken branches on trees left standing after a tornado.
Start Rebuilding
Once you've evaluated the damages caused by a tornado and cleared fallen trees from your property, it's time for rebuilding. While it may seem right to repair or renovate damaged buildings, experts recommend building from scratch. This means following Ohio's building codes to build a foundation that can support your home. You should also update heating and cooling systems and add insulation to keep energy costs down.
Recovering from a devastating natural disaster like a tornado can be a stressful process. However, you can rebuild your life and restore damaged property if you follow the right steps. As a general of thumb, you need to survey the damages caused, clean up damaged trees, remove debris, and rebuild your home with a firm foundation.