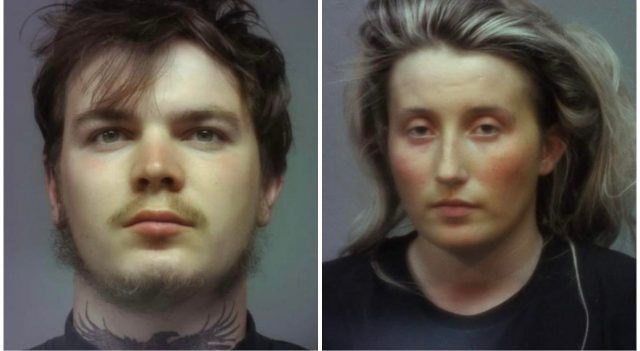 On April 23, 2023, a caller telephoned the Hocking County Sheriff's Office 911 Dispatch Center advising a male, later identified as Charles D. Starner, 22, of Lancaster being possibly stabbed from an altercation at a rental cabin located on Sullivan Road.
The Sheriff's Office Patrol Unit and Hocking County EMS responded. Medics treated Starner who was later flown by air-evac to Grant Medical Center. Hocking County Sheriff's Office Detectives responded to the Sullivan Road cabin and processed and collected evidence from the scene. Witnesses were interviewed about the incident and released. The suspect fled the scene immediately after the incident occurred. Information received during the investigation led Detectives to believe the suspect was headed to Fairfield County. The Fairfield County Sheriff's Office was contacted for assistance. Shortly after the request, Fairfield County Sheriff's Office made contact with a male and female, identified as Isaac T. Pence, 20, of Carroll and Sabra S. Flagg, age 21 of Lancaster.
Pence and Flagg were transported to the Hocking County Sheriff's Office where they were later interviewed by Detectives.
The Hocking County Sheriff's Office was notified, by a representative from the Grant Medical Center, Starner had succumbed to his injuries. The Franklin County Coroner will be conducting an autopsy. Pence was charged with Murder, and unclassified felony. Flagg was charged with Obstructing Justice (F-3). Bryce England, 22, of Lancaster was arrested and charged with Misconduct at an Emergency scene. All three were transported to SEORJ in Nelsonville.
Both Pence and Flagg appeared in Hocking County Municipal Court on April 24 and were given a million-dollar bond by Hocking County Municipal Court Judge Frederick Moses. Both were returned to SEORJ. Bryce was released on bond.
A special thank you to the agencies who provided valuable assistance, Hocking County EMS, Fairfield County Sheriff's Office, Good Hope Township FD and the Hocking County Prosecutor's Office.