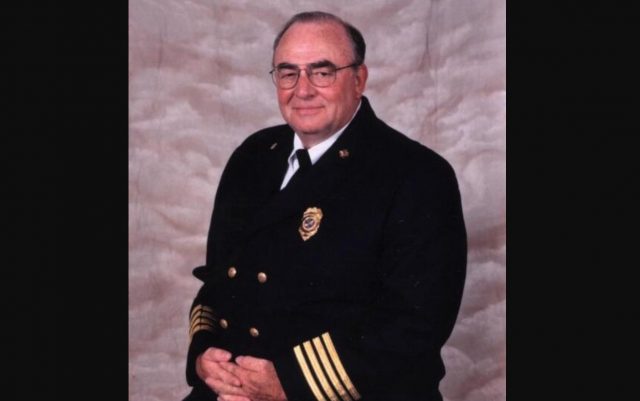 "It is with exceptionally heavy hearts that we must announce the passing of Retired Fire Chief, Terry Morris of Greenfield Township Fire Department. Words cannot describe the loss that his family, the community and the many groups he was involved with over the years are experiencing. Chief Morris will be remembered by everyone he ever came into contact with.
Above all, he was devoted to his family and always placed them first. You could always count on Chief Morris when you needed help. His passing has left a hole in many hearts." Said Greenfield Fire department
Terry J Morris Sr., age 76, of Carroll Ohio, passed away Tuesday, April 19, 2022. Terry was born April 4, 1946 to the late Joseph H and Jean K Morris in Wheeling, West Virginia. He was a graduate of Bridgeport High School, after high school he joined the United States Navy serving during the Vietnam Era. He worked for NCR after his honorable discharge, then began his own business. He also worked for Emerigitech where he traveled many places installing and providing education on the enhanced 911 service. He married the love of his life Theresa in 1968. He first joined the Brookside Cadet Core in 1958 beginning his journey in the fire service. He served at the Barton Volunteer Fire Department and then Greenfield Twp. Fire Department where he ended his career retiring as Chief from Chief 560 in 2016. Terry was a man of many skills, teaching paramedic classes through Eastland Career Center, was a CPR and first Aid Instructor, and served as the Fiscal Officer at Fairfield industries. He was a member of numerous clubs, Carroll Lions club as the treasurer, Vietnam Veterans Association board as secretary and treasurer, the American Legion, Am Vets, and Lancaster Veterans Burial Detail which held a special place in his heart to serve. Terry was a loving and devoted husband, father, grandfather, brother, uncle, and a person you could depend on to be there when needed; he was a mentor, but most of all a friend to many.
In additions to his parents, he is preceded in death by his son, Terry J Morris Jr, daughter-in-law, Stacey Morris; and nephew, Brian Henke.
He leaves behind his loving wife of 53 years, Theresa Morris; son, Joseph Morris; daughter, Tammie (John) Koetz; grandchildren, Zachary (Kate) Morris, Evan (Ashton Soliz) Morris, Hayden (Ali Crouch) Morris, Donavan Trimble, Shealyn Benton, Caleb Benton, Taylor (Dylan) Burch, Avery Brown, Marcus Koetz, Brandon Koetz, Becky, Alyssa, and Matthew Morris; great-grandchildren, Luca Morris, Harper Burch and on the way, Parks Eugene; sisters, Sue (Mike) Markus and Kathy Hicks; sister-in-laws, Nancy (Vince) Johnson and Charlotte (Ray) Oberle; many wonderful nieces, nephews, and great nieces and nephews.
A visitation will be held Monday, April 25, from 2-4 and 6-8 at the DWAYNE R SPENCE FUNERAL HOME 650 W Waterloo St. Canal Winchester, OH 43110. A funeral service will follow the next day Tuesday, April 26, at 11am at the funeral home, burial following immediately after at Lithopolis Cemetery.
A gathering will be held at the Greenfield Twp Fire Dept after the burial, for friends and family.
In lieu of flowers donations can be made to any of the various organizations he was associated with.